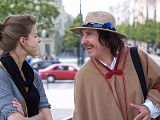 I advocated for fun and the upcoming European filmmakers in Vilnius had fun as you can see in the film about the workshop, "2 Weeks in 10 Minutes", that is full of ideas and playfulness in storytelling.
Time was limited and it would be wrong not to say that several of the films would have profited from some more time in the editing. Nevertheless, I will not hesitate to give the link below to anyone who wants to visit the beautiful city of Vilnius. The 10 films about the capital of Vilnius bring you around and give you a feeling of buildings, atmosphere and people. And a bit of social and historical background. A very welcomed supplement to many official, promotional tourist guides.
People, yes, how easy it is to see when a person is good for the camera and can act as a strong character: "The Wizard" (photo) is about a charismatic English teacher and tourist guide (and his dog), whose long monologue is accompanied/interpreted by well chosen images that gives the film portrait a second layer. "Upside Down" is a wonderful observational camera tour-de-force with a girl, who plays in a modern universe but comes from the old. What energy this uncontrollable girl communicates, "everything is all right", she says to comfort the cameraman in the finishing merry-go-around scene. A gift to a film is also the foreign minister of the independent republic of Uzupis when he shows around in this special part of Vilnius in "Le Bonheur est sur le Guidon", as is the fine old nobleman, the sculptor "Konstantinas", who in his film shows how he works and gives a warm verbal tribute to Vilnius.
The film about the female trolley-driver, "Through the Windshield", could have stayed more focused on her – for my taste there were too many distractions, as in the film about the crisis, "Empty Rooms", that have many fine sequences and ambitions but needs another round of cutting. On the contrary, a salute to the film "Lenino Pr.40" for being so conscious about the form in the story about the building that was the prison for (political) troublemakers in Soviet times. "Three Garages Man" had great camerawork but the story about the young artist-to-be wanted too much for 10 minutes. I had expected much more from "Saint Vilnius", which has a fine female character but disappointing images, whereas "Deported" about the old people's home had brilliant moments and faces but failed to make an element of received and written letters work in a harmonious way.
But, wow, 11 films in two weeks, lots of talent, keep on, please!