This film blog is owned and run by Allan Berg Nielsen and Tue Steen Müller. Who also write the texts of the blog with occasional guest writers. The blog is a non-commercial, con amore initiative aiming at readers who are generally or professionally interested and engaged in (documentary) films.
ALLAN BERG NIELSEN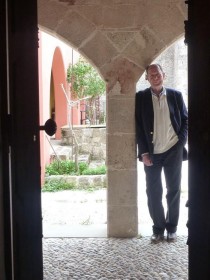 Allan Berg Nielsen started the first documentary cinema in Randers, Denmark way back in the 1970'es. He did so at the museum, where he was employed. He got the (16mm) films from the collection of the National Film Board of Denmark (Statens Filmcentral). He organised a film festival in his home city, became a member of the Board of Directors of the Film Board, started to write about films in diverse magazines, were a juror at several festivals and wrote television critiques in the local newspaper. From 1998-2003 Allan Berg was documentary film consultant (commissioning editor) at The Danish Film Institute, a continuation of the Film Board. Since then free lance consultant in documentary matters.
TUE STEEN MÜLLER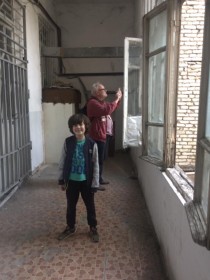 Tue Steen Müller was educated librarian and worked as such for three years, with film and other non-book activities, in the early 1970'es. From 1975-1996 he was employed at the National Film Board of Denmark (Statens Filmcentral) as press secretary, distributor, festival manager, film consultant and spindoctor for various directors of the organisation. He was part of the team behind the Balticum Film/TV Festival on Bornholm Denmark 1990-2000 as well as the set-up of Filmkontakt Nord, Documentary and the EDN (European Documentary Network) of which he was the first director 1996-2005. Got the (Jørgen) Roos Award for his contribution to Danish and European documentary in 2005. Since 2006 free lance consultant and teacher in documentary matters all over the world.
Top Photos on the front side of the newly layouted site:
Pedro Costa, the Portuguese director, admired and written about by Allan Berg, who met the director in 2003 in a jury in Bilbao and watched "No Quarto da Vanda", "Horse Money" (https://filmkommentaren.dk/pedro-costa/. Tue Steen Müller, who had hoped to meet the director in 2020 but he did not come to Copenhagen, but these two films did: "Colossal Youth" and "Vitalina Varela", https://filmkommentaren.dk/pedro-costa-2/.
Pirjo Honkasalo, the Finnish director, admired and written about by both editors of this site. Allan Berg started his review in Danish like this: … Filmen skal handle om lovens bud du må ikke vidne falsk mod din næste, sagde Iikka Vehkalahti, da han bad Honkasalo lave den, og hun brugte i sin synopsis den endnu tydeligere engelske formulering Thou shalt not bear false witness against thy neighbour, det er den konkrete nabo, det handler om, der i ørkenen, der i bjergene, og hun kom med sit vældige filmværk til at fundere over fjendebilledets opståen. (https://filmkommentaren.dk/pirjo-honkasalo-the-3-rooms-of-melancholia/) The film is part of the trilogy that also includes "Tanjuska and Seven Devils" (1993) and "Mysterion" (1991). Honkasalo has made feature films as well.
Nicolas Philibert, the French director, is pretty much represented with posts from Tue Steen Müller, here is a quote of a quote from one of the posts: … "I feel the need to create a frame for each film, a starting point that I can build upon. This frame consists of the things that I find motivating and exciting when working together with the subjects of the film. When filming starts, the final destination is unknown to me and I don't know which path I will follow. A lot depends on the things that emerge through work and encounters. Naturally the journey is different with each film…" (A quote from a text for the Finnish Docpoint festival).
Müller made an interview with him 4 years ago in Tbilisi, where several of his works were mentioned: https://filmkommentaren.dk/nicolas-philibert-in-tbilisi/ This year he won first prize at the Berlinale for "On the Adamant".
FILMKOMMENTAREN FIRST FIVE YEARS
Five years ago Allan Berg called me to pitch an idea he had: Should we make a film blog where we could express opinions and spread information on our common passion: Films. Allan (who lives in Randers in Denmark, whereas I live in Copenhagen, the two cities being 4 hours train distance from each other) organised what became filmkommentaren.dk with a local webbureau Infoserv that has the motto "keep IT simple". Which we have done, kept it simple: text + photo + links where our readers can find more info and clips and trailers. Ambition: an average of one text per day. All year round.
We decided that Allan should stay with Danish as his language for posted texts – I went for English, the language I use when teaching and tutoring around the world. For four years we got a generous 50-50 start and IT maintenance support from the local FOF (Denmark's largest provider of adult liberal education) but no financial support from anyone. Well, once we applied to the DFI (Danish Film Institute) for a small help to cover the basic costs but got a no because "there are so many film websites so that would make a precedent to support you", words to that effect. So filmkommentaren.dk is totally con amore, and we have been happy to invite other Aficionados to post texts.
Here we are five years later, this text being blogpost/text number 2082. We have never really discussed editorial lines, we have written about what we wanted to write about: reviews, festival reports, notes, quotes from other media, comments, we have created smaller and bigger discussions. The focus has been the documentary film.
The first two texts were reviews of "Forever" by Heddy Honigmann and "Ghosts of Cité Soleil" by Asger Leth, that was back in August 2007, where we also wrote about Bergman and Antonioni, who died late July that year, and where we visited and covered the yearly documentary gathering of the DFI at the European Film College.
Statistics – We have had 96.521 visits in 2012 until this day, 39.351 so-called unique visitors. We are very happy for the interest. Thank you, readers! (Skrevet den 07-08-2012 11:34:28 af Tue Steen Müller)