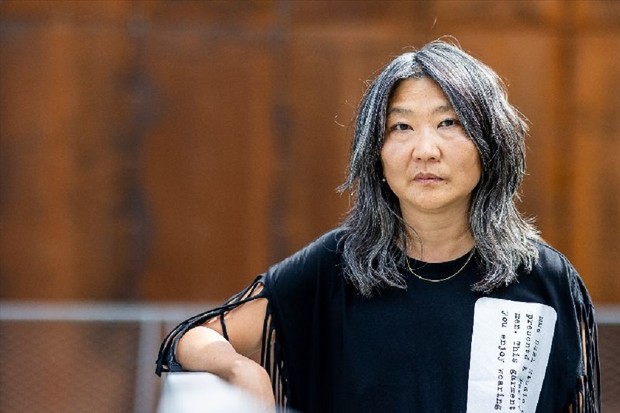 Eurimages and the European Film Academy have the pleasure to award producer Uljana Kim with this years' Eurimages International Co-Production Award. The award goes to her "to mark her outstanding commitment to co-production and the strong co-producing partnerships she has built up over the years. It is also an acknowledgement of the excellent track record of her company in the competitive arena of the Eurimages co-production support programme." Uljana Kim will be an honorary guest of the gala for the 36th European Film Awards on 9 December in Berlin to receive her award in person.
Uljana Kim, born in 1969 in Osh, Kyrgyzstan, graduated from the Institute of Cinematography in Moscow (VGIK) in 1993 and is a film critic by education. She emigrated to Lithuania, where she founded Studio Uljana Kim in 1997. At that time, she was the first female producer in Lithuania. Since then, the Vilnius-based production and distribution company has produced 34 feature and documentary films, being one of Lithuania's leading companies. Most of them premiered at the most important international film festivals and others were successful at the domestic box office.
The company's films include Valdas Navasaitis' Courtyard, premiered at Cannes' Director's Fortnight in 1999, Kristijonas Vildžiūnas' The Lease [+], premiered at Venice in 2002, Kristijonas Vildžiūnas' You am I premiering at Cannes' Un Certain Regard in 2006, Ignas Jonynas' The Gambler [+], premiered at San Sebastian in 2013, Mantas Kvedaravičius' Mariupolis [+], premiered at Berlinale's Panorama in 2016, Sergei Loznitsa's Mr. Landsbergis [+], premiered at IDFA in 2021, Mantas Kvedaravičius' Mariupolis 2 [+] premiered at Cannes in 2022 and Tomas Vengris' recent Five and a Half Love Stories in an Apartment in Vilnius, Lithuania [+], premiered this month in Black Nights. As minor co-producer Studio Uljana Kim produced feature films such as Sergei Loznitsa's A Gentle Creature [+] and The Natural History of Destruction [+]. Uljana Kim has co-produced ten films with Eurimages' support, six of which as a majority producer.
Text and photo taken from Cineuropa of today.