Nicolas Philibert in Tbilisi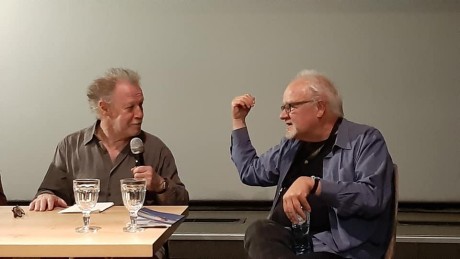 After the screening of a beautiful 2018 restored copy of "Etre et Avoir", the film by Nicolas Philibert, that he made in 2001 to be premiered in 2002, to be an amazing audience success in cinemas in France, 2 mio. spectators (!) and elsewhere – a conversation (see photo taken by Georgian film director Nino Orjonikidze) took place at the Cinédoc festival in Tbilisi between Philibert and me. One hour of talk with a master about the film just shown and about filmmaking as Philibert sees it after having been making documentaries since the mid of the 1970'es.
He is such a generous and thoughtful cinéaste which is easy to see if you know (some of) his films, let me just mention wonderful films like "Nénette" (the orangutang who is soon celebrating her 50th birthday!), "Every Little Thing", "La Maison de la Radio", "In the Land of the Deaf", "Louvre City"…
The conversation was recorded and will later be found on the site of the festival.
When my wife and I saw the film the first time, in 2003 I think is was, we were talking about the film and the method, the pedagogics of the teacher, now 15 years later we were talking mostly about the children in the film, who enter the school for the first time as do "our" grandchildren back in Copenhagen. Oh, childhood… and thanks for conveying all these magic and poetic moments of curiosity and innocence to us, monsieur Philibert!