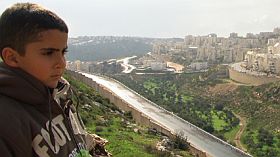 This excellent film by Palestinian Emad Burnat, co-directed by Israeli Guy Davidi was nominated for an Oscar but did not win. The film, however, had already before the nomination won several awards in festivals and has had/has a theatrical release in many countries (FOR THE DANES, PLEASE NOTICE THAT IT IS SCREENED 6 TIMES IN CINEMATEKET IN COPENHAGEN FROM March 1st). The Oscar nomination did of course a good deal of extra publicity. For good and worse. The director had a lot of trouble in explaining to the media in the US and elsewhere that the film is NOT an Israeli film, even if there is Israeli money in the production, and upon arrival to Los Angeles, he was kept back of the authorities that did not believe that a Palestinian could go to Hollywood!
A very interesting creative so-called infographic was made for the film in connection with the award ceremony. Here is what AFAC (Arab Fund for Arts and Culture) wrote about it:
"… Visualizing Palestine released their latest infographic, "5 Broken Cameras", in time for the Academy Awards ceremony as a specially-requested billboard referencing Emad Burnat's documnetary film of the same name. Contacted by the manager of Emad Burnat to produce an infographic that would come out in time with the Oscar nominations, VP is increasingly recognized for designing visual stories striving for social justice based on facts and dates on Palestine/Israel. "While the documentary, nominated for best feature documentary, did not win, the infographic was released because it tells the story of peaceful resistance against the wall and settlements in Bil'in," said VP co-founder Joumana al-Jabri.
The critically-acclaimed 5 BROKEN CAMERAS is a deeply personal, first-hand account of life and non-violent resistance in Bil'in, aWest Bank village surrounded by Israeli settlements. It is also the first ever Palestinian film to be nominated for best Documentary Feature by A.M.P.A.S.
For more information about the film, click here.
For more infographs from Visualizing Palestine, click here".
What a great piece of work to accompany a great film!
http://visualizingpalestine.org/infographic/5-Broken-Cameras
http://www.arabculturefund.org/bulletin/article.php?genre=2&id=243#.US5J-Iu3Its