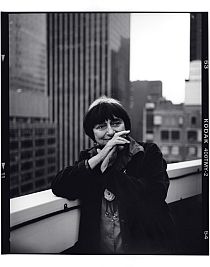 Tomorrow – and the rest of the week – French/German channel arte invites documentary lovers on what seems to be a wonderful lighthearted journey with Agnès Varda, entitled "Agnès de ci, de là Varda". On the site of arte, see address below, there are clips from the series, which according to "le monde" (18-19. December) is "subjective, fantaisiste, érudite et émouvante… un très beau cadeau". In the same article Varda says that she has filmed almost as if she was thinking with no other intention than "to show my curiosity". Sounds like "caméra comme stylo", as the French new wave was saying they were aiming for.
She meets colleagues on her way, like the 103 year old Portuguese director Manoel de Oliveira and Chris Marker, a close friend, who does not want to be seen in the film, but "he looks like Bruce Willis", Varda says!
If you have the chance, go and peep into the windows of Agnès Varda, who has her shop in rue Daguerre (she made a film a bout the street in 1976, Daguerreotypies) or enter the shop and buy one of her many great films.
For French viewers – remember that you can watch programmes of arte seven days after they have been broadcast.
Link to arte.tv