Alan Berliner: First Cousin Once Removed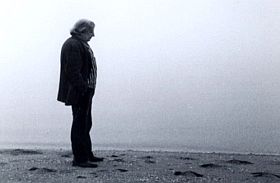 Lucky film enthusiasts in Copenhagen: The award-winning documentary by Alan Berliner has been chosen to be "Documentary of the Month" at the Cinematheque in the Film House of the Danish capital. It will have five screenings. A fine Danish language intro is to be found via the link below. Here is a repeat of my review from 2012:
Famous for his film about his father, "Nobody's Business", clever and funny with an excellent, playful montage, it was simply great to watch the newest documentary by Alan Berliner, also with a family member as main protagonist, also with a playful montage and also a tribute to Life even if it deals with Edward Honig, who has Alzheimer's disease, sits in his chair through the whole film, with family archive material flasbacks here and there and everywhere, shot over five years, a wonderful experience, because Edward Honig was wonderful to meet, a poet and a translator of poetry, among others Portuguese Pessao, a man on his way away from the Life he had been praising again and again, sitting in this room full of books and papers not knowing why and where and what and who.
Berliner asks and asks and gets moments out of Honig, at the same time as he tells the story about him, twice married, haunted his whole life by feeling guilty for the death of his brother when a child, and treating his sons of second marriage really bad. He gets the second wife and the two children into the film as well as other key witnesses to the life of Honig. As well as the director's own son in musical sequences with the old man. When Honig answers Berliner, he does it normally with a humourous reaction to his own situation, that makes Berliner make excellent associative sequences (often with trains through tunnels) that loosens up tension and gives us viewers a bit of free time to reflect… well it could be on "la condition humaine" to use a kliché. There are many films about Alzheimer's disease, and it is indeed hard to watch what used to be a strong, well formulated man get to the point where he expresses himself with sounds, that Berliner refers to as an inspiration coming from outside the window of the room where he sits. From the birds. "Remember How to Forget", Honig says, "little boy, I like you, take me for a ride in your story", which is what Berliner has done with respect and a storytelling that is non-chronological with an elegance, that makes you think what a wonderful thing FILM is.
USA, 2012, 78 mins.
http://www.idfa.nl/industry/tags/project.aspx?id=F840443F-1331-482A-A23D-5C21E854D304&tab=-
http://www.dfi.dk/Filmhuset/Cinemateket/Billetter-og-program/Film.aspx?filmID=f29219