Alexandru Solomon: Capitalism. Our Improved Formul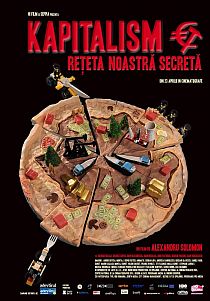 20 years after the change – in Romania after the end of the Ceaucescu regime. How would he, Ceaucescu, look upon/see his country today, if he came down from the skies? Solomon, experienced Romanian director, lets the dictator come back through the use of some archive material, come back to meet the new leaders of the country, businessmen and politicians, who made it from – for several of them – positions in the Securitate to the top. Very often with battles with Justice, accusations of money laundring, general corruption – in surroundings where commercials cover the houses of the streets in Bucharest and the People's Palace is open for market economy events and the parliament.
Solomon's film is an intelligent interpretative presentation of a reality that could go for many former Eastern European countries who got their freedom but is still pretty poor. It includes a fine piece of journalistic research – amazing that Solomon could get all these semi-criminals to take part, they must have known that he was there to promote them!? – combined with "childish" animation sequences and funny camera placements and effects. Much more than a reportage or a investigative documentary, entertaining as well, playful.
Today you can't be succesful unless you steal, as says one of the filthy rich Romanians in the film.
Romania, 76 mins., 2010