Alina Rudnitskaya: School of Seduction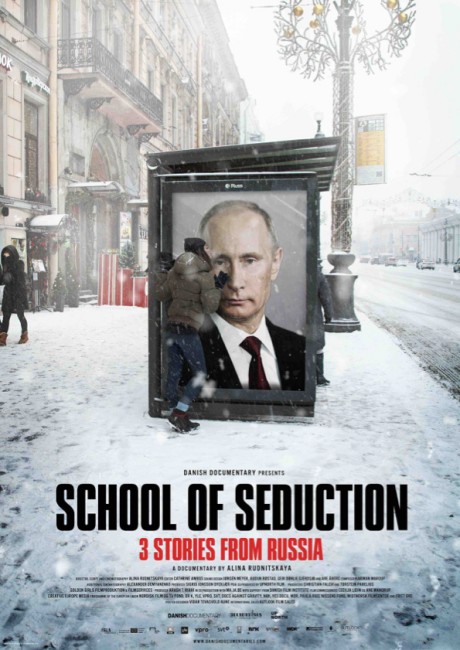 It's a lovely start of a film. Shots from a naval parade in St.Petersburg. Grandiose. People in striped sailor blouses, and people in uniforms. Waving the navy flag in front of the Winter Palace. Suddenly focus on a pretty girl dancing with a navy flag in her hands. Seductive movements. And then a couple kissing behind a column, continuing their caressing somewhere else, sex behind the flag… and a bit later she hits him in his face.
Alina Rudnitskaya starts her film in her native city saying that this is about man and woman in a Russia that is proud of herself or should I say himself. And she does so with her own signature of tragedy and comedy. More about that later.
The title comes up on the screen, « School of Seduction », a Danish
production, actually a Danish Documentary Production with a Russian director, talented/skilled Rudnitskaya, whose film carreer I have been following since the beginning of the century and whom I have met several times at festivals and workshops and in wonderful Pieter. Below you will find links to what has been written about her on this site. Including Bitch Academy from 2009, that now can be seen as a 29 minutes long prologue to « School of Seduction ». It is here, at the Academy, that the film takes its first steps with the middle-aged fatty coach surrounded by young girls, who wish for a happy life with a wealthy man. The coach gives them tricks on how to seduce with their body – and emotions.
But where the short film stayed at the school the feature grows to be a story of three women followed over a span of years, where the social and political aspect is framing their lives and the development that Lida, Vika and Diana goes through. Thus the film becomes a strong documentation of Life in Russia today, where (see the poster) Putin is The Man to be adored and the one, whose speeches are brought a couple of times. His speech to the women on Woman's Day is an homage to the mothers and grandmothers, who serve the Russian man so well. The speech is brought at the end of the film.
Lida, the first in line, is dating a married man. She lives with her mother under poor conditions. She goes to the training at the coach, she listens to what he says, "men don't want women who have issues, tell him that you can't live without him". She does, "you have to make a decision", she states, apparently he does, one year later they marry, four years later she has the small Polina. Lida is now a housewife, a mother with a husband who travels a lot, you see her mostly in the kitchen, the high heels are not used by her any longer, Polina, as every child, loves to walk around in mother's shoes.
Vika, second character, is married to Denis, with whom she runs a lingerie shop in a commercial center. But she is not happy. She goes to a psychologist. "I feel bad inside", "I don't have a home"; well she has but she does not feel it a home. And she is not in love with Denis any longer. She goes to the coach, she moves from Denis, who is still the one who controls her, finds the flat and pays for it. A fantastic scene that gives evidence of Rudnitskaya's sense for people and situations takes place in the kitchen of Vika's mother, who advises her how to get hold of a new man: Go to funerals, express your condolences to the male widow, establish a relationship… Putin voice-off: Women give us Life… and from a radio: The divorce rate in Russia is one of the highest in the world. Would have loved to stay more with Vika to see how things develop for her in the city of Dostojevski.
Diana, third in line, is the one, who is most determined. In a fine scene with a nice young man, she seems to be in love with – is it a scene set up by the director, no problem for me – she declares that there are three things that are important for her: An Appartment (she lives with her sick grandma and her little son), Money and a Relationship. In her part of the film the poverty is the most visible. There is a jump 6 years ahead, where she lives with an Italian, who teaches at the University, and her son Sasha, who is a very skilled piano player. You see the three going to luxurious Hotel Astoria for a cocktali party, you hear her at home complaining that she does not have the best dress, she wants that, she is no longer going to the fatty coach, she now attends lessons in how to eat a lobster, she gets new fancy dresses, "I want to be the Best", and she is being filmed performing the lines of Grace Kelly; to look like Nicole Kidman when she played the Grace of Monaco. And she goes to Monte Carlo to be near the rich and the casino. Sasha films her and says, "the girl tries to be elegant but nature does not allow it". She has gone from poverty to richness, but to happiness?
It's a big step that Alina Rudnitskay has taken with this film that aims at an international audience, and for sure will have it! From minimalistic short films to a film with an impressive sound design but she keeps her signature and sense for the detail, for the human. Some scenes at the Bitch Academy, as the first film was called, are hilarious but treating the three characters with respect she does, whatever you might think of them.
I would like to quote from an interview with Rudnitskaya, where she talks about her filmmaking, from 2015:
(http://www.filmkommentaren.dk/blog/blogpost/3178/)
"Tragicomedy is my favourite genre. Laugh through tears. Life is very paradoxical, not only black or white. Everything has its own contrast: birth – death, love – hate. People are multilayered personalities. I look for the inner collisions and such situations in which people react in various manners. They cooperate and sometimes contradict and get in conflicts with each other. And one more aspect – I live in Russia where the situation often changes 180 degrees: yesterday one kind of values was acclaimed and today the values are quite different. And if you don't have a good sense of humor you can get depressed. We live in spite of it. And I try to catch it in my films."
And if you want to read about previous films:
Blood (2014), Victory Day (2015), I will forget this day (25 mins.) (2011) , Bitch Academy (29 mins.) (2008), Besame mucho (26 mins.) (2006), Civil Status (29 mins.) (2005), Communal Residence (13 mins) (2002)
Denmark, 2019, 97 mins.
For screening times check