Anat Even: Achrey Haso (Closure)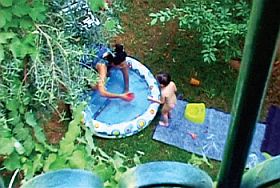 Painters have done it for centuries – chosen their motif literally close to themselves. "View from my window". Not many filmmakers have done the same. Kossakovsky did it with Tische! He looked out of the window from his appartment in St. Peterburg. And Now Anat Even, Israeli director, has done the same and made an extraordinary clever and personal film essay. From her window.
With a tone of melancholy, mature, in first person, the director tells about the loss of her brother who lived in the yard, had his workshop for pottery and sculptures there, always within reach, working there if he was not taking a break to go outside to sweep the pavement. While talking about him the view from the window gives the viewer trees or people going to and fro, or a child being bathed. Or clips from films with the brother.
Gradually a demolition takes place in front of our eyes. A skyscraper is to be built near the house, and the courtyard is getting a house that will block the view from the window. Palestinian workers are building a wall next to the appartment building of the director! Closure is the English title of the film, of course, what else could it be, but does it sound too definitive and simple in words, I can not stress enough the multilayered generosity that Anat Even brings forward, when she constantly shows and talks about the place as having historically a strong multicultural importance. Those days are over.
Israel, 2009, 50 mins.