Anja Schwyzer: Nebenlauf (Tributary)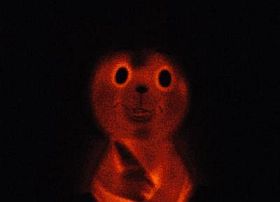 A minimalistic film school diploma work, full of tension and importance, with a terrifying story told through staged interviews with the director's parents, a sister and a boyfriend. Intertwined to these fragments of words that carry the narrative – about what happened to the director when she was abroad, driving a car and accepting a hiker to step in – some grainy unfocused dreamerish, not abstract but sort of unreal, super-8 mm images stress an atmosphere of something that had to be told for the sake of all those involved, who experienced the consequences of what happened to the director. They tell her how she was, when she came back to them. Therapy for both parties, the one, who suffered, the director, and the relatives around her? Maybe, but one of those films that cross the border from private to personal and thus becomes interesting for all of us. Because it has such a stringent form, all necessary "fat" is cut away, nothing is sentimental and yet the film is very moving.
Switzerland, 2008, 14 mins.
The film was in the Generation DOK Leipzig 2008: