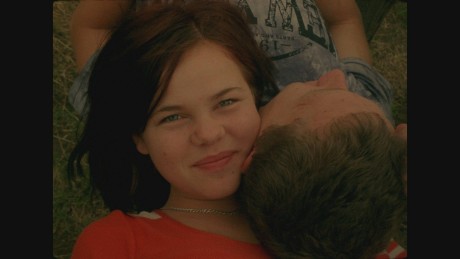 Yes. Documentary is Cinema. Where the best directors know what they are doing. Have chosen a form for what they want to tell. Before shooting. This is what Swedish Anna Eborn has done with this gem of a documentary film. She is working with video and with 16mm film, she has created a superb sound design and used music so it matches the sequences. The critic has no objections!
Actually this is a quote from my review of Eborn's previous film "Lida" from Ukraine but it fits perfectly for the one, she presents now, "Transnistra", shot by Virginie Surdej.
The film stands out, it is far away from main stream documentary, let me just point at some of the magic this film delivers:
The opening summer scenes of the youngsters at the river with Tanya in the middle surrounded by, well they are boys, all of them pretty much interested in Tanya, she talking about love all the time – the filmmaker stays long with them creating an atmosphere of waiting and searching. You can see it is shot on film material, it gives a beauty to the image, nothing to do with the often sterile video image.
The river is the point of return in a film that also goes to the poor place, where Tanya lives and to the abandoned houses, where the youngsters hang out, smoking, talking about everything and nothing, being together in a social context that can be only characterised as poverty. They have no education, they have dreams of getting away as many in this part of the world.
And yet, important to stress, this is not a social report, it is a close look at youngsters/teenagers and how they love and don't love each other, how they create their own little space of life in Transnistria, "the breakaway republic largely unrecognized internationally, sitting between Moldova and Ukraine, which seems determined to maintain a Soviet lifestyle".
… and the closing scene with Tanya and Tolya, touching… maybe a farewell moment, Tolya thinks, while Tanya is recording him singing. On her cell phone. Wow, here is a young director who catches a moment of life and love, Truffaut will clap in his hands whereever he is.
The film will be shown at the Tempo Festival in Stockholm, at Docville in Belgium and at CPH:DOX: https://cphdox.dk/en/programme/film/?id=1187 and will be released in Danish theatres in June. And at many other festivals I am sure.
http://www.filmkommentaren.dk/blog/blogpost/4027/
https://en.wikipedia.org/wiki/Outline_of_Transnistria
Sweden, Denmark, Belgium, 93 mins., 2019