Annie Sundberg & Rickie Stern: The Devil came on H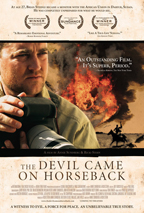 The film was reviewed in August 2007, now we repeat the review for those Danish people who watched it on DR2's new tuesday night documentary strand "Dokumania". The Danish language review went like this:
Darfur. Vi har hørt om det, vi har læst om det, vi ved at mennesker bliver dræbt i hundreder af tusindvis, men derfra til at få uhyrlighederne visualiseret som i Ricki Stern og Annie Sundbergs film er et langt stykke vej. Det her er en kampagnefilm, et råb om hjælp til verdensopinionen, så gør dog noget, og gøres der noget, næh sådan ser det ikke ud. Og hvorfor ikke, storpolitik, siger vi afmægtigt til hinanden uden at vide, hvad der så ligger i det. Det forklarer filmen heller ikke, dens ærinde er humanistisk og dens fortælling er personligt leveret gennem den amerikanske militære observatør Brian, der skriver breve hjem om, hvad han set – og dokumenteret med sit kamera. Han siger sit job op og beslutter sig for at offentliggøre sit materiale. Filmen følger hans nye mission, han får kontakt med politikere, han rejser til den Haag til den internationale domstol, han belejres af medierne.
Som sådan er filmen klassisk amerikansk – én mand tager affære – både i sin historie og i sin filmiske udformning. Heldigvis er denne mand sympatisk og man kan kun håbe på at hans mission må hjælpe bare en lille bitte smule. Som tilskuer kæmper du med at se på alle disse molesterede og forkullede lig, som er blevet fotograferet på tæt hold af Brian, samtidig med at du ved, at er der noget, der hjælper, er det netop sådanne billeder – hvis en opinion skal overbevises. Måbende ser du sudanesiske regeringsrepræsentanter antyde at billederne er arrangerede og fake.
Hvem kan hjælpe? En gribende scene viser Brian Steidl i samtale med en flygtning i Chad. Flygtningen gentager igen og igen at kun USA kan hjælpe, de arabiske lande gør intet. "Selvom vi også er muslimer", siger manden, der rejser sig, går rundt om et hushjørne, fulgt af kameraet, standser op, vi ser at han tørrer øjnene, der er håbløshed i hans kropsprog.
USA, 2007, 85 mins.
www.thedevilcameonhorseback.com