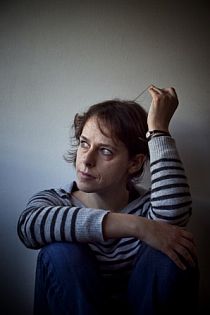 On the International Women's Day, March 8, the third session of the EU MEDIA Programme supported training and development scheme Archidoc took place in Prague as part of the East Doc Platform. It was thus very appropiate, that most of the 10 projects pitched to broadcasters and distributors at the director orientated workshop were presented by women.
And some had women as their main characters. Finnish/Estonian Tiina Madisson wants to make an animated archive documentary about Vera Zasulich, who in 1878 shot General Trepov in St. Petersburg in pre-revolutionary Russia, became an icon for the masses and was written about by Dostojevsky and Oscar Wilde – an appealing story about a woman, who has been called Russia's first notorious terrorist, who became a killer and a martyr and a socialist hero. Title: The Truth about Vera.
More close to our time, and at a more developed stage, is Belgian Ellen Vermeulen's The Double Life of Marie-Louise, who left her husband and children to realise her ambition to climb the top of Himalaya – and travel the world as an adventurer. The time was in the 1950'es and Marie-Louise, whose husband was mayor of the town, hit the front pages and was subject to public gossip – to leave the family for six months of the year! Vermuelen has brilliant archive material from Marie-Louise's adventures, family member's memories, and artistically strong ideas on how to visualise the story.
Portuguese Catarina Mourao (photo) has in the last 15 years with several films demonstrated her talent as a documentarian. The first person project she
pitched in Prague started off from these lines from the catalogue: In the 1950'es my grandfater was committed to a psychiatric hospital, my uncle became a prisoner, and my mother aged 11 was sent to a boarding school… Based on the background of Salazar's dictatorship a true drama unfolds in a split family. Mourao wants to "unravel secrets and mysteries" 38 years after the 1974 revolution. The film, if it can keep the level of the teaser, has definitely a theatrical potential.
Most of the projects at the Archidoc programme, run perfectly by Helena Fantl on behalf of la fémis, the French film school, were at an early development stage and more cinema than television as the reactions showed from the 12-headed panel of commissioning editors from YLE, SVT, ORF, Channel4, Rai, Lichpunt Belgium, FR3 France, Wide Management Paris, CBA Wallonie, idfa forum and Doc Educational Ressources.
The Swedish I have Bathed in Broads and Champagne about Johny Bode, however, will be a hit on television, for sure. Director Bo Sjökvist wants to make an entertaining film about this "jolly good fellow", who were chasing women and money all over Europe in the 1950'es and 60'es, composing music, and pornographic songs, was in and out of mental institutions, got sterilised… and died as a lonely man. A Citizen Kane story as one of the tutors said. Swedish television supports, German ma.ja.de will co-produce the film that – due to Bode's travels, stays and troublemaking all over – is a true European project.
Also French Dorothée Lachaud came up with fine television material. She presented "Correspondances", a series, that had a great teaser to give us an idea of how good it could be to have a collection of letters visually interpreted – between Roosevelt and Churchill, Virginia Woolf and her lover, Sigmund Freud and his daughter… High quality ambition, 26 minutes per episode, must have an audience appeal on the public broadcaster's cultural channels.
For the remaining 5 projects – not to make this too long – I will just mention director and titles: Stéphanie Fortunato's The Open City from Chile, Lorenzo Giordano's Maritime Memories of Riva Trigoso (near Italian Cinque Terre), Julien Lahmi's Cut Cut Bang Bang, a playful work on four hours of found footage, Isabelle Putod's Exiled from Time about French Michel Siffre's time experiment going down in a cave for two months to check the feeling of Time, the inner clock one could say, and Cathal O Cuaig's Welcome to Connemara about the directors' great granduncle and his fight for Irish independence and the Gaelic language. Was it worth the effort, seen from today?
The three sessions were with warmth, passion and competence tutored by French director Catherine Bernstein and former documentary head of arte France, Thierry Felix Garrel. My job was to train the filmmakers for the pitch in Prague.