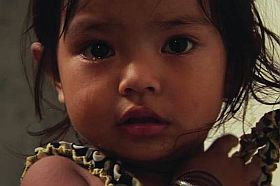 The festival in Sibiu ended last night with a very professional international orientated prize ceremony, held in Romanian and English languages. The Grand Prix went to "Phnom Penh Lullaby" by Polish director Pawel Kloc, who with this film has made one of the most noticed works from the last couple of years. The director told me that this was his 6th award (plus several honorary mentions) and that the film had participated in around 70 festivals. The jury, headed by Luciano Barisone, director of the festival Visions du Réel in Nyon, Switzerland formulated the following motivation for the Grand Prix winner:
"The film captures the conflict in a strange couple's private existence and draws a portrait of a complex man who is caught between realism and naivety and whose genuine desire for love clashes with a society corrupted by mass prostitution. The filmmaker shares with his protagonists an uncomfortable situation, keeping just the right distance from them and leaving the audience with the sad sense of life's disappointing truth. The Jury was really impressed by this intense and painful journey to the end of the night."
In the category "Romanian Realities" the award was given to Artchil Khetagouri and Ileana Stanculescu for "Noosfera". With this motivation from the jury:
"Any debate on love is subjected to controversy. It has been the case of the jury members, who have expressed diverse feelings for one or another of the films in this competition. However, since love cannot be trapped between walls, or since some walls enclose three simultaneous love stories, for the intrinsical humour of the approach, and for a universal reality, even if the story happens in Romania, for the subtle portraying of the characters, and in appreciation of a well-done work, the jury gives the "ROMANIAN REALITIES" AWARD to NOOSFERA.
Khetagouri and Stanculescu were in Sibiu not only to show their film but also to conduct the workshop DocStories Black Sea. For this they deserve an award as well.
Dan Curean got the Ecocinematograff prize for "Gone Wild", a film on wild horses that this blogger met four years ago at the Discovery Campus as a promising project. The director gave me a dvd, the film will be reviewed on filmkommentaren.dk later. Swedish Maria Kuhlberg's "He thinks He´s Best" was best international documentary.
http://www.astrafilm.ro/astra-film-festival-2012-awards-1.aspx?theme=1