Atanas Georgiev: Cash and Marry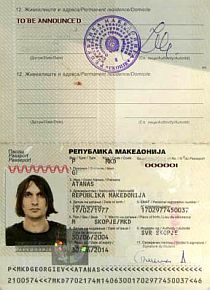 Wow, they deserve it! Atanas Georgiev, director and his team, who can add one more acknowledgement to the one they got at ZagrebDox some months ago at the world premiere: Last night they were awarded the "Regards Neufs Prize" at Visions du Réel in Nyon. 5000 Chf donated by the Canton Vaud. This is what I wrote about this remarkable and innovative film earlier in a report from Zagreb:
"It took some time for director Atanas Georgiev (Macedonia), his producer Sinisha Juricic (Croatia) and coproducer Ralph Wieser (Austria) to make and finish "Cash and Marry", which will be a hit at festivals in the coming year. As it very rightfully was at the world premiere at ZagrebDOX where it was pitched as project 3 years before. Totally full house, people standing in the corridor, a super audience for this film's first screening.
But it was worth waiting for. It is a provocative, stylistically sometimes messy and anarchistic, charming, funny, clever, touching and so very much actual document about Europe today exemplified by the hunt for a bride in Vienna that performs the director himself – for the film and for a passport that can make him stay in the European Union."
And the Nyon jury's motivation goes like this: For having succeeded in treating a fundamental political subject in an original, refreshing and unpretentious manner, and for its unusual narrative structure, its sense of humour, honesty and boldness.