Award to Catalan Film Company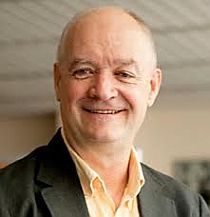 You should know that I am totally biased, as I work for the company, Parallel 40, that among other initiatives stand behind DocsBarcelona, nevertheless I find it important to post a congratulation greeting to visionary Joan Gonzalez (photo) and his staff in Barcelona, for an award, not a film award, there are hundreds of them, but an award for the important work in society that the company has done and does through the production and distribution of documentaries with a social perspective.
Training, production, distribution, film commission administration, festivals, tv management – it is all happening or has happened under the umbrella of Parallel 40, and with a clear goal statement, here taken from the site of the company: "Parallel 40's mission is to contribute to society's cultural enrichment through the audiovisual medium."
The award is part of a Momentum Project, an initiative from ESADE (ESADE is an independent nonprofit university institution) and BBVA (a multinational Spanish banking group) aimed at promoting social entrepreneurship in Spain.
10 companies (one for film) were awarded – nice to be reminded that people outside the film propfessional circles recognise the value of documentaries!
http://www.esade.edu/web/eng/about-esade/today/news/viewelement/239181/1/momentum-project-chooses-10-social-enterprises-to-participate-in-its-2012-edition