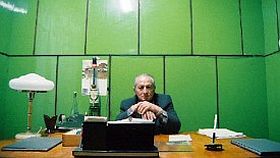 … at the International Documentary Film Festival was given out last night. Twelve awards. The best World Documentary, Opus Bonum, given by a one person jury, James T. Hong, was "Lost Land" by Belgian director Pierre.Yves Vandeweerd, whereas "Bakhmaro" by Georgian Salome Jashi was the winner of the category "Between the Seas", the best Central and East European Documentary.
The jury motivation for "Bakhmaro" goes like this: "With an attentive and personal approach the filmmaker transforms an ordinary microcosm into a unique narrative and playful visual experience. Through an effective and assured cinematic language this film reveals the mood and the spirit of a society struggling with its internal hopes and contradictions. For its respect, artistry and quest for surprise the award for the Best film of "The Between the Seas" Competition goes to Bakhmaro by Salome Jashi."
Respect for characters, artistry and quest for surprise – I can only eccho that characterization of what will be Salome Jashi's international breakthrough documentary.
http://www.dokument-festival.com/news-detail/6441|1029-awarded-films