Baltic Sea Forum: New Talent/2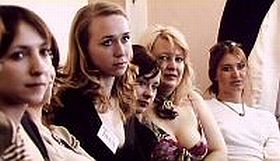 Alina Rudnitskaya has previously been praised on this site – for her fine films "Civil Status" and "Bitch Academy" that have travelled the world festival circuit with success making her name mentioned as a big talent. Last year she pitched a project about people at both ends of the blood donation business in the St. Petersburg region; it is now being developed with German producer Heino Deckert. This year the director was represented by producer Anastasia Lobanova and script writer Mila Kudryashova who told the panelists that they wanted to make a follow-up of the "Bitch Academy" to see how life is for the girls 3 years after they were trained to seduce. They pitched with humour and stressed that the film will not point fingers at the girls but treat them with respect.
Another couple was convincing in their presentation – the Ukranian Ramon Bondarchuk and Dar'ya Averchenko. Their subject was the rock singer Igor, who is making a career in Moscow fighting not to lose his roots in the Ukranian town of Kerson. The Ukranian filmmakers were supported by experienced Latvian producer Uldis Cekulis, who met them during the preparation of the project "15 Young by Young" (mentioned on this site), where they are to make a film about chldren playing Dixie music.
Estonian Jaak Kilmi is at the Forum every year. This is where he presented "Disco and the Atomic War" (mentioned on this site) that selles well internationally. This year he had just come back from research in Siberia on a film named "Jesus of Siberia" on the notorious guru, Vissarion. Observational, he says that the film will be, but it would be a surprise me if the humourous touch of Kilmi will not be visible and hearable!
Humour there was in a film project from Georgia, that does not deal with war or Sakashvili! "Auto-Tour" is the title of the project that – presented by producer Tinatin Kajrishvili – follows the life of a couple of Georgian men who travel to Germany to find, buy and take back cars to their country – to try to sell them. It is a life style for them, they don't get a lot out of it, financially speaking!