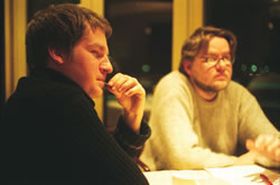 I went to Tallinn, Estonia to update my almost 20 year long love story with Baltic documentary. And to watch films for DOK Leipzig. I saw more than a dozen from last year's Estonian documentary production at the premises of Estonian Film Foundation in the old city of the capital of Estonia.
The professional level is obvious. The Estonians have maybe more than the two other Baltic countries succeeded to establish a healthy infrastructure for – taken the size of the country into consideration – spending the public funding money for film in a sensible and often very tv-targeted way. The Film Foundation collaborates with ETV, the public broadcaster, which is quite active and has for a long time had a documentary connaisseur to support – with little money yes, as everywhere – and to take home internationally recognised films for the local adience. Her name is Marje Jurtsjenko, her documentary film consultant counterpart at the Film Foundation is Raimo Joerland.
I will mention one filmmaker name from each country I visited. The Estonian name is Jaak Kilmi, who directed the funny and original "The Art of Selling" and now as a producer stands behind two films that I think will travel the world: "Nazis and Blondes" and "The Last Russian Revolutionaries". The first one has support from Eurimages and deals in a creative way with local film history – when Soviet films from the second world war were to be made, the actors for the nazi roles were all picked in the Baltic countries. Clips from the films, interviews, an arranged award ceremony for the films… You will get to see that film in one or another festival near you. Jaak Kilmi plays for the moment perfectly the double role as director and a European orientated producer.
http://www.kuukulgur.ee/ http://www.efsa.ee/ http://www.dokleipzig.de/ Photo: Jaak Kilmi and Jan Kaus.