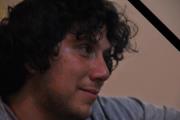 Filmmaker and DoxBox Campus organiser Diana el Jeiroudi posted this text on facebook one hour ago:
"I lost a dear friend and colleague. Syria lost Syrian Filmmaker Bassel Shihadeh who was killed by a mortar grenade in Homs this evening. My condolences to humanity .. at large.."
At DoxBox last year in Damascus Bassel was one of the filmmakers, who developed and presented "Brakes" at the pitch session at the Danish Institute. His film project was awarded as the best by the international panelists present. Bassel, Dox Box Campus alumni, was full of energy and charm and talent.
Really touching to see how his Syrian friends and colleagues one after the other change their facebook profile photos to the one you see. Condolences.