Ben Kempas:Upstream Battle:The Story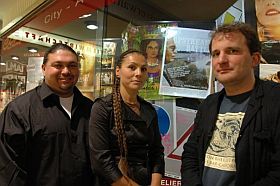 This is one of those films that you can only appreciate: It takes you to a place in the world that you (I) don't know anything about. It has some charismatic characters who fight for a cause. You get to know and love them. It has a strong and relevant, universal story that is straight forwardly well told. With a development. Something happens, it is complex but you are well informed about what.
A rich film in other words, because the director-cameraman has taken his time – years – to do a deep research and to get close to the characters to gain their trust. Which goes both for the native Americans, who see their life and culture at the Klamath river north of California threatened by the big hydroelectric dams that they want to be taken down – and for their opponents who work for the energy companies that make a profit but also claim that they have an environmental profile. The consequences of the dams are that the salmon that used to swim upstream the river has almost disappeared. Bring the salmon home, is the message from the tribes.
People from several tribes are in the film, I can't mention them all, so let me highlight the couple, Merv and Wendy, he a big tattooed man, who beautifully explains to us the rituals and religion attached to the Hoopa tribe, she, a mother of four, the spokeswoman for the battle, emotional – a great couple with four children that you are surprised to see at the same time live a modern American life, totally skilled when it comes to modern communication. The fight goes on, as it is said on the site of the film: Their struggle may trigger the largest dam removal project in history.
Photo: To the left the couple Merv and Wendy George, to the right the director.