Benoit Felici: The Real Thing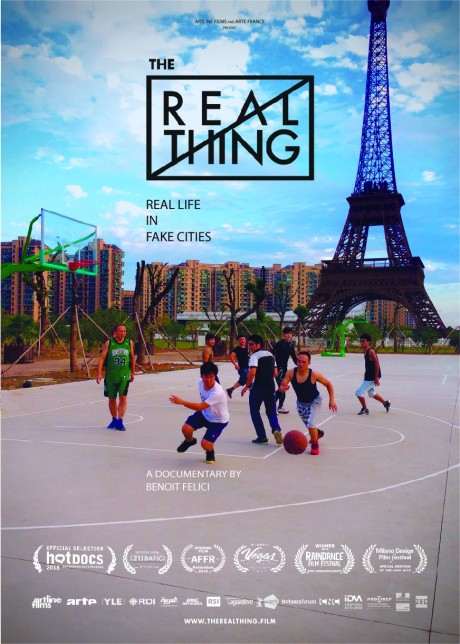 – with the subtitle: Real Life in Fake Cities.
I met Benoit at a café in Paris, in lively rue Montorgueuil. For a good long talk about Life, politics and Cinema. We know each other from way back, when he was a student at Zelig Documentary Film School in Bolzano. It was in February so no words about pandemic.
Benoit made a very succesful graduation film at Zelig, "Unifinished Italy" (2010) that travelled the world and won many awards for its originality in style and subject ("Italy, home of ruins: A foray into the unfinished, Italy's most prominent architectural style between the end of WW2 and the present day."). Now he lives in Paris, has a child, teaches film at a university and makes film.
He told me that his newest film, "The Real Thing – Real Life in Fake Cities", where he worked (again) with colleagues from Zelig, Bastian Esser on camera and Philipp Griess as production manager, was invited to be screened at the Copenhagen Architecture Film Festival. Great, I said, we can meet and I can show you Copenhagen. The festival was scheduled for April/May but was postponed because of the pandemic – till now where the film will be shown at the festival on Saturday at the Danish Cinemateket. Sold out. And there has been a screening in Aarhus October1st.
As original as "Unfinished Italy", with superb camerawork, this film has also toured all over – festivals like HotDocs, BAFF (Buenos Aires), Ambulante Mexico and as you can maybe see on the poster several broadcasters have picked it. Including arte. So he has reached an audience. Here is the director's own film description from his website, link below: "The Real Thing is a journey into a copy of our world, Seeking the monumental copycat architecture of China and other countries around the world, Residential areas where people live an everyday life in places simulating other places… mirrors in which a certain image of the world is reflected…"
As written on this website Copenhagen Architecture Festival has a strong focus on films, so Benoit Felici is in good company with directors like Pedro Costa and Patricio Guzman.
The two websites are excellent, with photos, teasers, production notes – super-informative.
http://www.benoitfelici.com/?portfolio=archi-faux