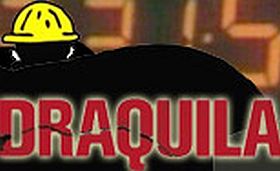 The headline is taken from a small report by Camillo de Marco, who from Cannes Film Festival writes for the CinEuropa website. About one more documentary that puts its focus on Berlusconi… Italian documentarians do not have so go far to find good stories as Michael Moore did not when George W. was in the White House. Here is the note:
A throng of journalists, applause and some laughter greeted the morning's press screening of Draquila: Italy Trembles [trailer] by Sabina Guzzanti, on how the aftermath of last year's earthquake in Abruzzo was handled by the national Civil Protection Agency (see article). The nearly 400-seat theatre was full well before the film began.
The actress-director also met with the Italian press this morning, and expressed her "deep shame" over Italian Minister of Culture Sandro Bondi's decision not to attend Cannes because the film is a"a propaganda product that offends the country". Yesterday evening, Italy's Prime Minister, Silvio Berlusconi, denied accusations of Italy's "subjugation" of the film's content. "It's a problem of cultural decline", added Guzzanti. Meanwhile, the 100Autori Association is asking for Minister Bondi to resign. Distributor BIM has published the film's initial box office. Since its domestic release last Friday, Draquila has grossed €413,000 (and yesterday, €56.500), to earn it third place on the charts after Robin Hood and Iron Man.
PS. Below the official site of the film (with clips) and a link to Cineeuropa that in its editorial choice also includes a huge amount of trailers, mostly for fiction films.
http://cineuropa.org/index.aspx?lang=en