Betsy West & Julie Cohen: RBG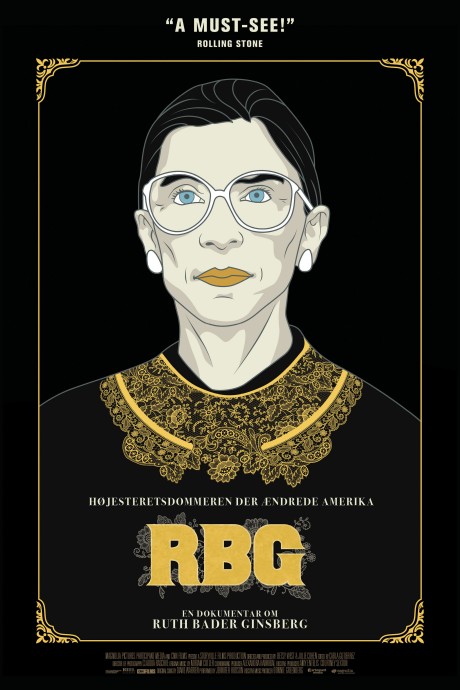 Hero. Icon. Dissenter… three words heading the FB page of RBG, the film about Supreme Court Justice Ruth Bader Ginsburg. When in New York in December the news broke, that she was hospitalised for one more cancer illness; my wife's brother who lives there said "oh, bad news, if she does not make it, Trump will put in another conservative asshole".
She made it, she is still there to make her voice heard, the 85 year old (86 in March) liberal, some say leftist dissenter, who was appointed by President Clinton in 1993. After having been fighting against gender discrimination for decades.
The film tells the story of her life through interviews with her, with her
biographers, with her children and her grandchild, with politicians – using wonderful archive material going back in time, material where you see the charismatic small woman, who appears serious – with some dry humour as when she responds to whether she knows why she is called the Notorious RBG: yes, I know the Notorious B.I.G, we have a lot in common, both born in Brooklyn, he a black rapper, me a Jewish lawyer! – whereas her late husband Marty was the extrovert full of humour, he being the one taking care of the household, as she was always having her nose into papers of a case, often with few hours of sleep.
The film has been a huge success in the US – close to 15 mio.$ income from cinema tickets – and she has become a cult. Go online and you will be offered tshirts, cups and whatever with RBG.
In an interesting interview with the directors, link below, they say:
"Well, we are journalists who make documentaries. Our documentary is a piece of journalism, as far as we're concerned. We're telling truths and revealing a life. And we are doing it—we hope—in an artistic way. But, at the heart of the work we do is the search for the truth."
It's a film that you enjoy to watch. Artistic, no, conventional in storytelling. But yes, that's what it is, a fine piece of journalistic documentary.
USA, 2018, 98 mins.
https://www.documentary.org/online-feature/justice-served-notorious-rbg?fbclid=IwAR0nVACEX6BWgcG0GI9qF2b1xd-NMLPsC1lcfhY_vYJlLx_ZkfG3F7RyR9s