Bettina Perut & Iván Osnovikoff: Los Reyes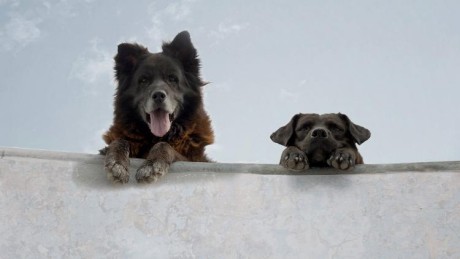 The film was screened and there was a half hour talk afterwards. These IDFA talks, I understood, are formatted to have no questions from the audience. I sensed a disappointment in the hall, probably many would have loved to get more from the sympathetic two directors. But they were surrounded outside for further talks in the corridor after the screening. It was my impression that the audience loved the film about "the kings", why this title – here is a quote from the IDFA website: "Los Reyes is the oldest skatepark in the Chilean
capital of Santiago. But in its literal sense, "the kings" in the title of this film can equally refer to Chola and Football, the two stray dogs that have made their home in this open space full of hurtling skateboards and rowdy teenagers. The energetic female Chola loves to play with the balls she finds lying around. She positions them at the edge of the bowls, where the skaters show off their tricks, and tries to catch them just before they fall down. The older dog, Football, looks on impatiently and barks at Chola until she finally drops the ball…"
A simplification of course in a film that is rich in observations and small stories and that delivers sound bite dialogues between youngsters, who come here to escape problems at home, to smoke all kind of stuff, to talk about the life they lead, in other words. You never see the young people, you see the dogs listening to them, most of the time with something in the mouth, an empty bottle or a ball. It's hard for Chola and Football to survive in the heat but they find their shady places and profits from the showering of the lawns at the park. And they are barking at horses and donkeys – get out of here, this is our place. Playing, sleeping or resting but attentive to sounds, and if one of them gets up to move to another place, the other follows.
OK, you might think, a film about two dogs, so what? Yes, a lot of the answer to the "what" is connected to the way the film is built and to the extraordinary camerawork by Pablo Valdés, who also worked with the couple on "Surire", reviewed on http://www.filmkommentaren.dk/blog/blogpost/3397/ and who has been filming with Maite Alberti ("I'm not from Here" and "The Grown-Ups"). His close-ups are second to none, on the insects that are taking rest in the dog's fur, on the paws of the dogs, on the tennis balls; it looks like paintings, nature morte and it is followed by amazing images of the skatepark, when the sun goes down.
The hairy Football is the oldest one of the two and you see from the start that he is not at his best, when he is limping around in the park. And you understand that he is no longer there, when Chola is howling, alone with her grief.
At the fine talk after the screening Bettina Perut told – in tears – that she was there when Football died. And that she and Iván Osnovikoff have adopted Chola. Football was alive when the editing progressed. Actually finishing the editing helped them to get over the grieving. We went to the dogs three times per week for the 8 months the shooting took, they said, and informed the audience that the film project originally was to deal with the kids hanging out at the skatepark, where Iván went to skate. But we did not get the feel of the film until the dogs became the protagonists.
The film got the Special Jury Award at IDFA 2018 for "for the creative and beautiful way it displaces the viewer gaze by associating a sensible look at non-human wonderful characters and the soundtrack that connects daily lives of animal and human stray dogs". No objections from a Danish dog lover.