Bingöl Elmas: My Letter to Pippa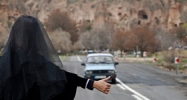 Italian Pippa Bacca, peace activist dressed in a wedding gown, decided to travel to Jerusalem. By hitchhiking. She did not make it. In Turkey she was raped and killed. Bingöl Elmas, Turkish filmmaker, decided to finish the travel of Pippa, wearing a black wedding dress as a sign of sorrow.
What we as viewers get from this journey is a fragmented picture of Turkey today, at least as it can be read through the meetings Bingöl has with truck drivers, men and women and children in villages she passes, old people, young people, farmers and business men. She is constantly being followed by her crew colleagues, they film and she films.
The director is a good talker, she gets easy into discussions with the men, and she makes them talk. Some think that they can get a night with her, others are sceptical to her intentions and several warns her to be alone with men on the highway! Of course the camera to a certain degree excludes the most "chauvinistic" dialogues to develop but this is luckily not the only target for the journey. The scenes where she talks to women, especially the old ladies and to families are the most interesting and authentic as they unfold in a very light and unstressed manner.
The film is part of the series "The Other Turkey" made for arte France. On the website below the intention of the series and its context is explained.
Turkey, 60 mins., 2010