BlekendaalThe Man Who Looked Beyond the Horizon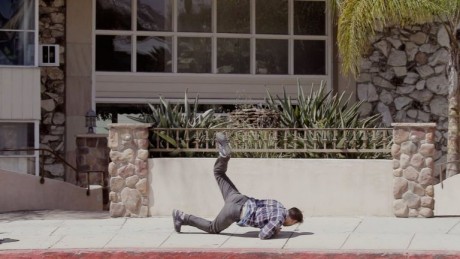 In a way it's an old fashioned film. In storytelling. And I mean that as a compliment. The director plays with the film medium, jumps around in time, gives references to slapstick movies, Buster Keaton and others, in the search for giving evidence on behalf of the protagonist, the Dutch adventurer, who wanted to cross the Atlantic, which he did or did not, he never came back. Giving evidence that there is no gravity. There is a lot of mystery about his disappearance – did he disappear, did he actually exist, is the whole film a fake, is it the director's own search for something, for some meaning, could be, I don't know, what I know is that the film is fascinating and playful using the wonderful tools of filmmaking that is far too often forgotten in nowadays documentary making. Old fashioned – a lot reminds me of films from 1968 where all was allowed and tried out. A documentary, well the sequences with an old lady, the girl friend way back when he left, points in that direction as well as photos of a young man with curly hair.
The film won the IDFA Special Jury Award for Best Children's Film. The jury said: "A film that choose a non obvious subject for children, one that tickles their imagination, raising philosophical questions, and approaches children as little adults. Through intelligent editing, this film challenges the usual way of storytelling in the children's documentary genre.."
Indeed "special", maybe more for youngsters or for adults, who like films with layers, surprising films in storytelling, bringing laughter and a serious theme together in a brilliant way. Lovely!
The first name of the director is Martijn.
Holland, 2018, 28 mins.
www.idfa.nl