Border Crossing – an Exhibition on Migration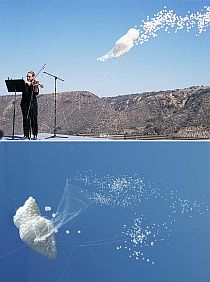 For a documentary person, who normally sits in a cinema or in front of a tv/computer screen, when he watches – it is something special to visit an art exhibition that has its focus on a theme that is regularly dealt with in current documentaries: Migration. An art exhibition that conveys this theme through films and videos. First you enter a totally dark room, look around for a seat, find one which is uncomfortable, sit there but decides to change position and end up on the floor with your back to the wall – to enter a world of images from today. You know these images already, you have seen them again and again on television news, or in a documentary film frame. But here in the art museum the films and videos do not give you any explanations, you do not need them, there is no story as we know it from modern documentary, non-linear it is and you enter the images without knowing if this is the start, the middle or the end. It is not important. Lucky you are – for a moment – to leave the character driven emotional story to be invited just to think about what you see.
This is the case if you visit the fine exhibition at Brandts in Danish city Odense, where six visual artists show their works. With the theme in common but with very different aesthetics. The artists are Alfredo Jaar (Chile/US), Chen Chieh-jen (Taiwan), Aernout Mik (Holland), Isaac Julien (UK), Guido van der Werve (Holland), Ursula Biemann (Switzerland), Jens Haaning has
done the intelligent design of the exhibition: 6 dark rooms, one for each artist, like boxes with very small corridors between one and the other. You get the feeling of being locked in, of klaustrophobia, similar to the migrants in the films and videos shown. The exhibition is curated by Lene Burkard.
Isaac Julien is definitely the star of the show. His 35mm material is organised in impressive big tableaux, pans of wrecks of boats stranded on the shore filmed from the other side of the fence, from our side, dancers on white cliffs, one climbing like Odysseus, another waiting like Penelope, contrasts between rich and poor, music bites from Africa from where the migrants come, bodies arranged on lit-de-parade on beaches where tourists are having fun – very much arranged and metaphorical, whereas drama are in the sequences from the sea where people fight to reach the shore. Alfredo Jaar's work is a registration of an event, a concert performed on both sides of the US/Mexican border. It suffered from a bad sound side. Chen Chieh-jen's film from Taiwan is strong in its stylisation where women tell their stories about how badly they were treated when they applied at The American Institute to get a visa for a travel to the US. Even more annoying is the second part where Chinese women, from mainland China, wanted permission to live with their spouses in Taiwan. Dutch Aernout Mik had a two-screen presentation of tv news bites, which in this context were not tv news but examples of images from our world of today, evidence of pain and anger and bombing, and police police police all over. Quite interesting way of making the viewer see an alternative organisation of images that we know the story behind, and once in a while we discover the people behind the news, walking after water or waiting to have their case settled at the authorities. I left Guido van der Werves video out of boredom, whereas Swiss Ursula Biemann via five screens gave a strong informative and emotional insight to the Tuareg's role in smuggling people to Europe from the desert and the Moroccan police's ambition to catch those who want to get out of the African poverty. In that part of the exhibition I learned something about refugee travel structures.
The photo is from "The Cloud" by Alfredo Jaar, the balloons in the background symbolizes the many people who died while trying to cross from Mexico to the USA.
The exhibition runs until September 16 in Brandts Klædefabrik, Odense, Denmark.
http://www.brandts.dk/en/current-exhibitions?option=com_exhibitions&view=article&id=35