Broomfield & Churchill: Sarah Palin. You Betcha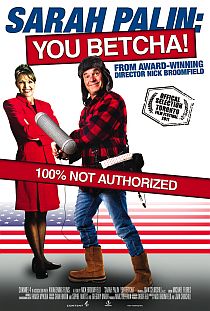 The style of British director Broomfield is well known from many of his films. He is in the picture, he is a character himself, the journalist looking for characters, and the truth, walking in and out of doors, very often as the upper class, well dressed British gentleman asking questions, very often without revealing his critical mission. It worked perfectly with "The Leader, the Driver and the Driver's Wife" from apartheid South Africa and with other films, where he is trying to get an interview with politicians and celebreties.
This is also the case with his newest film, on Sarah Palin, but he fails to get the interview, he wants, and the film fails for the same reason, as he has to use archive (mostly tv) material from her career that brings nothing new to the screen. Well, he gets talks with Palin's father and with all the people that she has been using and betraying, but as you all the way through the film waits for the clever Broomfield to get close to Palin, you end up being disappointed and bored seeing scene after scene with the director about to fall on his ass up there on the icy roads of Alaska.
I saw the film on Danish Dokumania, a rerun yesterday morning, in a version where the image pretty often had a text coming up saying "only for preview". Ooooops! Embarrassing for DR2, Danish public broadcaster not to have checked copy before transmission!
http://www.nickbroomfield.com/