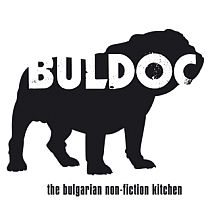 I felt priviliged to attend the so-called demo screenings of the first 3 films under "the informal label "buldoc". Arranged in connection with the first session of the Balkan Documentary Center, and created by Martichka Bozhilova from the documentary production company in Bulgaria, Agitprop, the programme was very well attended. The three films, all of fine quality, were "The Rules of Single Life", a Finnish-Bulgarian coproduction by Tonislav Hristov, "My Mate Manchester United" by Stefan Valdobrev, and "Dad Made Dirty Movies" by Jordan Todorov. The following text is taken from the site of the brilliant promotion initiative, Buldoc, "a non-fiction kitchen!":
"It is an unofficial truth that the contemporary documentary film has a leading position in determining the cinematographic aesthetics and cinema tendencies. The organic relation of documentary cinema with television and Internet is another proof of its adaptability. Its potential in the new media world is yet to be determined and developed. The "non-fiction" platform is the last island of the free, experimental and independent film expression. From the ashes of the "supermarket culture" rises the spirit of Flaherty and Dziga Vertov and making films turns into a moving adventure.
In times of crisis and post-communist transition the documentary cinema in Bulgaria is no longer crying for help. Beyond state institutions and regardless of the lack of dedicated state support, Bulgarian documentaries produced over the last decade are a proof of the new wave in Bulgarian non-fiction cinema. We are a bunch of filmmakers active in making films, professing solely the
outstanding creative author's approach. Our themes and inspiration come from the real life – no matter if they finally result in documentaries, fiction or experimental films. Therefore we decided to coin this multi-spectrum union as Buldoc – an informal label to spread our kind of movies. There are no rules, theme or style restrictions other than standing for high artistic standards and true reflection on reality.
The Buldoc logo will label films shown at cinemas, clubs, your neighbor's backyard or alternative Web-based platforms. Buldoc will support also the international distribution of these films all over the world. In the next 5 years we will make and gather 20 films that struck, moved and inspired us to start the Buldoc label. Buldoc will appear on the new films of Andrey Paounov, Boris Despodov, Valentin Valchev, Jordan Todorov, Svetoslav Stoyanov… We use informally the name Buldoc with the kind permission of our colleague, documentary filmmaker Mr. Hristo Bakalski.