Bul(garian)doc Films and Humour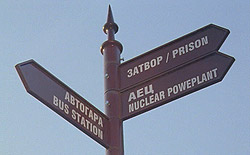 … will be very much present at this year's edition (number 20!) of the Sunny Side of the Doc. A so-called Bulgarian umbrella has been established to promote the films and projects that come from a country with several fine films from recent years. Initiator is the production company Agitprop represented by Martichka Bozhilova and Anna Stoeva, who are there to serve customers with Buldoc, "a non-fiction kitchen", together with other producers, the local MEDIA Desk and the national television. A presentation will be made of the new Balkan Documentary Center with this logline:
Is the Balkan documentary sector heading for roofless cars or roofless houses?
Photo from one of Agitprop's masterpieces, "Mosquito Problems and Other Stories" by Andrey Paounov.
http://www.sunnysideofthedoc.com/fr/