Camilla Nielsson: President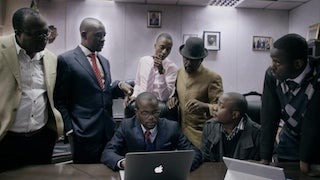 "You've got to have love for your characters and do everything you can to give them confidence in the job you've been assigned". Said Camilla Nielsson to me in an interview back in November 2014, published in a Danish Film Institute magazine on the occasion of her film's showing af IDFA that year. I refer to "Democrats" that we followed quite intensely on this site on its road to festivals – and awards – around the world.
Love for characters, I was happy to meet again Paul Mangwana and Douglas Mwonzora, the protagonists of "Democrats", in Nielsson's new film "President". Their job in "Democrats" was to create a constitution – Mangwana on behalf of ZANU-PF, Mwonzora for MDC-T. Two very different characters and temperaments I got to like thanks to filmmaker Nielsson and her cameraman Henrik Bohn Ipsen. In "President" they are side characters, Mangwana furious in a long scene, where the members of ZEC (Zimbabwe Electoral Commission) is questioned on their impartiality by the opposition party MDC-T, and the elegant cool Mwonzora being present in several scenes as one of the sympathetic strategists working hard to win the presidency for Nelson Chamisa.
Camilla Nielsson succeeds to make Chamisa and his people interesting to follow. With a clear structure and very much based on the "reading" of faces – the film is full of lovely close-ups – that cameraman Ipsen gives us. Example: We study Chamisa in cars taking him to meetings with the people at the election campaign; sometimes you sense he is nervous, sometimes he is happy with people's warm reception of him, sometimes he is reflecting or is in sadness like when he has met the family of one of the six, who were killed by soldiers confronting MDC supporters with water cannons and bullets. There is a rhythm in this, the dramaturgy of the film plays constantly with emotional contrasts. Jeppe Bødskov is the editor, great work.
Character-wise, with more charisma I find with Nkululeko Sibanda, who is the spokesperson of Chamisa, passionate and it´s almost heartbreaking to see his reaction, when he discovers he has been fooled to let the police bring MDC staff into a van "for protection". "Did I make a mistake?". And you find other personalities as the man with the hat, who says that this is "not an election, it's a selection". Or, the images of Justice Chigumba, chair of ZEC, when she sits in the court room like a sfinx attending the post-election court case by MDC against the same ZEC, accused of fraud and manipulation… Stone-face and yet a couple of times with flickering eyes. Advocate Mbofu is proceeding for MDC, we viewers have followed the MDC collecting evidence like "how come the voting results are identical in 16 cases"!!!
Not to forget the press conference given by Mugabe, where he indirectly declares his support for Emmerson Mnangagwa, who is now the president of Zimbabwe. He answers with humour as he sits there, an old weak man, a statesman, could not help like him at that moment…
In another interview Camilla Nielsson has said that she prefers character to story. That's where her huge talent comes forward again as it did in "Democrats", the talent as a true vérité filmmaker, who brings us "the feeling of being there" as Leacock said. In scenes that are full of energy. Far away from journalism and yet, Nielsson and Ipsen are covering the presidential election of Zimbabwe with nuances, one-sided?, well no doubt where the sympathy is – with those who want democracy, change change change as Chamisa declares again and again in the mass gatherings where the people show their palms – but the two were at the inauguration of Mnangagwa. The film ends with him looking at us viewers. What's next? Yes what's next with the film, can it/will it be shown in Zimbabwe. It took time for "Democrats", "Camilla Nielsson against Zimbabwe"!
Photo: Henrik Bohn Ipsen, from the film.