Carlos Klein: Where the Condors Fly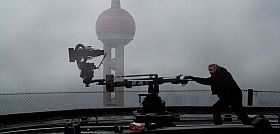 … with the subtitle: A Cinematographic Journey with Victor Kossakovsky, and indeed it is, a true pleasure to travel with the director while he is shooting his masterpiece "Vivan las Antipodas". The Chilean director frames the film with his own observations and longing for Patagonia, he observes Kossakovsky in action dealing with his crew, organising the shoot, changing a bit on the nature he wants in the picture, communicating with the protagonists, and puts some clever questions to him at the editing, and in breaks of the shooting, or in a car. There is some arguing between the man in front of the camera and the man behind, Kossakovsky can get pissed, you see and hear that, and Klein catches that as well, but the film is first of all a very well made, warm and intriguing meeting with a director at work, and secondly a dialogue between two filmmakers.
Oh, to see Kossakovsky film the scene with the Siberian women singing. The camera stays on the profile of the director at his camera during the whole song, totally overwhelmed emotionally he is by the beauty of the situation and the song. Kossakovsky appears as a director with the ambition to give us, the viewers, something to remember, and feel. "I just want people to be happy when they watch it", "who created this endless beauty" (that he shows us in the film), always in his limited charming English, "the film is about planet, cows, stones, you just have to open your eyes, and it is all there", "I want people to be happy that such people exist"… and so on, so forth.
But also about problems as when music is to be composed… "in every film I lost a friend", he sighs, "we need helicopter", he says in Shanghai, while the production people make the outrageous budget calculation. Next clip, Shanghai from above! You can keep on quoting Kossakovsky, the emotional bear who jumps around hugging people, expressing his enthusiasm over life and its beauty to everyone at the same time, as he seems to know exactly what he wants. The strong bear who in other scenes appears like a sad, spoilt baby. Thanks to Klein for giving us all this and thanks also for giving us a film that is a must for all professionals and film students, who want to see how passion and commitment look like. As an invitation to discuss documentary filmmaking, it is a must.
Switzerland/Germany/Chile, 2012, 90 mins.