CinéDOC Summer School Gori – Bunescu and Ceaucescu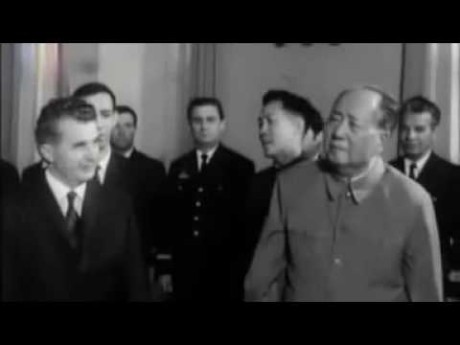 Did you see it : "The Autobiography of Nicolae Ceaucescu" (director : Andrei Ujica, editor and sound designer Dana Bunescu) from 2010, 3 hours long, a true masterpiece. You have to ! Archive the whole way through, no commentary, no explanations of where we are and when and why. Chronological. Probably difficult to follow for a younger audience, easy for me because of my age, having followed what happens in the world – and in Romania. I remember that Ceaucescu was welcomed in Denmark as well, he got a medal from the Danish queen, and we Danes were not the only ones welcoming or visiting him as you see in the film, where plane after plane lands in Bucharest with leaders of the world ; de Gaulle, Nixon, and of course the friends from GDR, Honecker and USSR, Brezhnev, and later the one he broke with, Gorbachov.
And for me personally touching to see my hero Dubcek, smiling he was, this
mild and modest man, receiving flowers, when he is welcomed by Ceaucescu, who condemned the invasion of Prague. Bravo ! He did good things but it all went wrong as you know and as you see in the film.
All this because of Dana Bunescu, who is here as an editing tutor, a scoop to have her, open-minded and direct in her approach to the young filmmakers. Bunescu was working on the film for three years and what a material she had and put into a film, that is never boring but takes you in, because of its sense of rythm and use of sound, of music – Bunescu is a master in sound and it's been an eye-opener to see her here in Gori talking about sound but also putting a recorder on the table to catch sounds that she might be able to use on another film occasion !
Oh, the scenes from China with Mao, who lifts his hand, automatically, it was in 1971, where he was 78 years old… and Ceaucescu actually not knowing how to react in this situation. But being totally ready to enjoy the parades China had prepared for him. Dunescu lets the scenes stay long, the effect is emotional for us viewers.
Would like to end this piece by quoting from NY Times, a fine and so well written review :
"Did the Ceausescus see what we see, what Mr. Ujica, working with his terrific editor and sound designer, Dana Bunescu, makes us see and understand? It's unlikely, though it's hard not to notice the difference in Ceausescu's posture during an early visit, filmed in black and white, to a food market, its stocked shelves groaning with proletariat bread and Party promises, and a later, grimmer visit to a market shot in color. He's older, of course, and grayer, though the hair still towers longingly upward. But by then even the Romanian propaganda machine couldn't obscure the despair hanging over the increasingly desolate cities and a people, whose early smiles had long disappeared, along with the promises…" (Manohla Dargis, NY Times 2011).
The film can be bought as a dvd, check the internet.