CinéDOC-Tbilisi Intl. Doc. Film Festival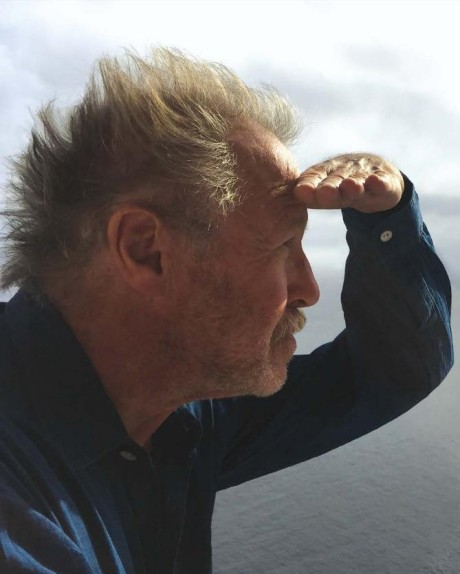 May 8 – 13 in Georgia's capital Tbilisi, the seventh edition of the documentary festival that I visited the first time at the opening edition as a juror , where the main awards were given to Lithuanian Lina Luzyte for « Igrushki » and Polish Pawel Kloc for « Phnom Penh Lullaby ». Last year the organisers, filmmakers Artchil Khetagouri and Ileana Stanculescu, showed, among many international quality documentaries « Infinite Football » by Romanian Corneliu Porumbolu accompanied by a football match, led by the main character of the film Laurentiu Ginghina, where I had the honour to be the referee ! An experience full of fun !
This year the organisers want to make it easier for the audience to make choices from the many films that are offered. They have made topics to group the films : Filmmaker in Focus, Unconditional Love, Beyond Faith, Red Soul, Our planet and Us, A Place We Call Home, Family Portraits, Aftermath of Conflict, Eternally Young, All that Matters to Me, Erotic Dox and Adaptation… telling the readers in the preface to the catalogue that « all of the documentaries… ask the eternal question : What does it mean to be human in this day and age… »
Filmmaker in Focus is Nicolas Philibert and I am already now looking forward to see « Etre et Avoir » again after years. I have the poster from the masterpiece in my small home office, I often talk to my wife about JoJo, the main character, when we see other films with boys like him ; lucky those who see the film for the first time and lucky me, who have been asked to talk to the director after the film about his œuvre, un grand auteur he is indeed. Have done that before in different places, who also shows his newest film « Each and Every Moment" and « Animals » from 1994.
Otherwise let me pick films from the selection. Films that have been reviewed or commented on filmkomentaren.dk with links to be used by those of you, who want to read more that the catalogue/website offers :
Ukrainian Vadym Ilkov's « My Father is My Mother's Brother », great film not reviewed but noted, Polish Wojciech Klimala's « Hugo », touching, not reviewed, Mari Gulbiani's « Before Father Gets Back » (reviewed by Allan Berg in Danish with English synopsis – http://www.filmkommentaren.dk/blog/blogpost/4446/, Reetta Huhtanen's « Gods of Molenbeek » http://www.filmkommentaren.dk/blog/blogpost/4454/.
Under the title « Red Soul » and with a masterclass attached with Vitaly Mansky, his « Putin's Witnesses » is shown – http://www.filmkommentaren.dk/blog/blogpost/4390/, as well as the exceptional Dziga Vertov's 1918 « Anniversary of the Revolution » that I enjoyed at the IDFA screening and look forward to see again, http://www.filmkommentaren.dk/blog/blogpost/4402/, and of course « Meeting Gorbachev » by Herzog and Singer, http://www.filmkommentaren.dk/blog/blogpost/4386/
Plus a couple of more films related to the post-soviet times, we live in.
Of course very happy but not surprised that « Honeyland » is in the program – http://www.filmkommentaren.dk/blog/blogpost/4449/ – as well as wonderful « When Tomatoes Met Wagner » by Marianna Economou, who let me watch a rough cut and whose brilliant documentary carreer I have had the pleasure to follow.
And Czech Filip Remunda is there with his new « Okamura Brothers », Valentina Primavera presents the strong family drama « Una Primavera », and the organisers have wisely invited « Train To Adulthood » by Klara Trencsenyi from 2015 to be in the category « A Place We Call Home », http://www.filmkommentaren.dk/blog/blogpost/3395/
Another festival hit is there, beautiful, "Transnistra" by Anna Eborn, http://www.filmkommentaren.dk/blog/blogpost/3395/ – look out for that.
And then there all the films that are new – including the ones in the Focus Caucasus section where I am to be a juror together with two festival directors, Petra Seliskar from MakeDox and Csilla Kato from Astra Film Festival in Romania. In the jury for the International Competition Jury there are Current Time's Kenan Aliyev, One World's Ondrej Kamenicky and Georgian director Mariam Chachia, who made "Listen to the Silence", an impressive film about a deaf 9 year old boy, http://www.filmkommentaren.dk/blog/blogpost/3736/
You can read much more on the website of the festival, link below, and as in the previous festival presentations no words about the industry activities – and yet curious to see what comes out of the Civil Pitch 2019, led by Daniel Abma and Brigid O'Shea, both working for DOK Leipzig.
A feast it's gonna be, also outside the cinema – chacha and Georgian food and wine!