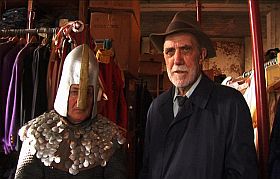 It was one of those nights – the premiere of Mila Turajlic's "Cinema Komunisto" – that will be remembered. A totally packed Sava Centre in Belgrade were present for the closing film of Magnificent7 Festival 2011. Standing ovations. It was late January 2011 and now almost 2 years later, the film, first of all thanks to the incredible energy and skills of the director herself, the film is still travelling the world after lots of festival screenings and several awards.
"This exhaustively researched and elegantly edited documentary…", writes the critic of The Times after the theatrical premiere in the UK a week ago. Other reviews, including one from celebrity critic Philip French in Guardian, are equally positive as you can see through the links below.
The film, that was also screened at idfa, comes out on dvd today in Serbia, is said to have a theatrical premiere in Paris… well, you can't stop great films and talented directors.
http://www.cinemakomunisto.com/about/
http://www.magnificent7festival.org/home.html
http://www.guardian.co.uk/film/2012/nov/25/cinema-komunisto-review
http://www.guardian.co.uk/film/2012/nov/22/cinema-komunisto-review
http://www.totalfilm.com/reviews/cinema/cinema-komunisto
http://www.thetimes.co.uk/tto/arts/film/reviews/article3608922.ece