City Documentaries in Belgrade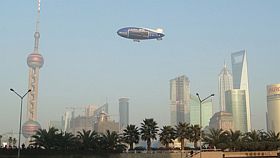 The film school (Kvadrat) and Magnificent7 film festival owners and managers, Svetlana and Zoran Popovic, offer a summer pleasure to Belgrade citizens and visitors. Starting from monday July 25, Megalopolisi na filmu, great films on cities are being screened within the programme of the festival "Belef – Audiovisuals in the 21st Century". Free entrance, read more about it on the colourful Serbian language site that has clips and trailers from the films. Here comes the selection, quite inspiring for other film festival organisers, right?
Megacities (Michael Glawogger), Austria 1998, 90 mins.
Tokyo Noise (Pauser, Petri, Röed, Söderberg), Sweden/Denmark 2002, 80 mins.
Berlin. Sinfonie einer Grosstadt. (Thomas Schadt) Germany 2002, 77 mins.
Shanghai Space (photo) (Nanna Frank Møller) Denmark 2009, 60 mins.
El Olvido (Heddy Honigmann) The Netherlands 2008, 93 mins.
Nomadak tx (Raul de la Fuente) Spain 2006, 91 mins.
Photo from mubi.com
http://www.belef.org/webtv/rez.htm
http://www.magnificent7festival.org/home.html