Civil Pitch Winners at Docudays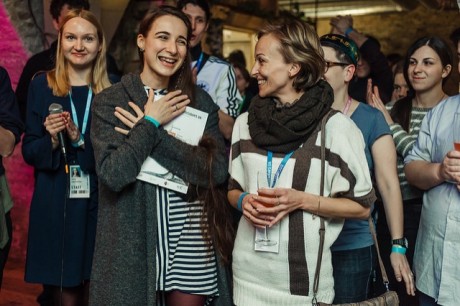 I had the privilege to moderate the final pitch session of the Civil Pitch at Docudays festival in Kiev Ukraine. 8 projects were presented to a panel of documentary producers, festival people and distributors. Projects which were quite young but pretty much alive and kicking. Read what Roman Bondarchuk from the festival rightfully said:
"It's incredible that these projects didn't even exist as recently as two weeks ago. That filmmakers and activists exist each in their own worlds and rarely cross paths," says Bondarchuk, a member of the competition jury. "And it is also incredible that for me personally some topics presented by the participants were absolute discoveries, and they made me want to engage these topics myself. In the end, although we have selected only four projects as winners, all of them had a great opportunity to meet renowned professionals of the European film industry and receive consultations about their projects.
I can only agree with him and hope that the film projects, most of them aiming at 20-25 minutes, will be realized. 4 of them will be helped by start money, each of the winning projects will receive $5,500. The funds for producing these short documentaries are
provided by the USAID/ENGAGE activity, which is funded by the United States Agency for International Development (USAID) and implemented by Pact in Ukraine.
And the winners are
1. 'UFO RESCUE MISSION' by the director Oleksiy Radynski and the activist Oleksandr Burlaka (#savekyivmodernism movement). UFO is a fantastic architectural building in Kiev, threatened by the plan to be "integrated" by a shopping mall…
2. 'NO STATUS. UKRAINE' by the director Dmytro Tiazhlov and activist Kateryna Babich ("No Borders" project). Three immigrants waiting for/hoping for asylum in Ukraine, helped by the "No Borders" people
3. 'SHUT THE FUCK UP!' by the director Taisiya Kutuzova and the activist Yelizaveta Sokurenko (NGO Human Rights Information Center). A 17 year old young man stands up against the local authorities and their corrupt actions.
4. 'BEHIND THE KITCHEN DOOR' by the director Yulia Kochetova-Nabozhniak and the activist Natalya Dorofeyeva (CO "UCO 'Legalife Ukraine'"). Sex workers. PHOTO from the award ceremony.