Copenhagen Architecture Festival x 2015
Denmark has a new festival. The first Copenhagen Architecture Festival took place last year and the second edition is coming up soon and has spread to the city of Aarhus as well. More than 70 events in 19 different venues: Seminars, exhibitions, conferences, debates, urban walks, and plenty of interesting film screenings!
Behind this great initiative are Josephine Michau (festival director), architect Peter Møller Rasmussen (responsible for the program) and Ph.D. in landscape architecture and film Mads Farsø (chief of development). Josephine Michau has played an important role in promoting documentary film in Denmark for the past five years. She is the co-founder of DoxBio, a national distribution-network that has, literally, been pulling out the red carpet for documentary films released in theatres across Denmark. Earlier this year, CAF received the prize Lille Arne ("Little Arne", named after Arne Jacobsen of course) from the Danish Association of Architects for its ability to "rethink the promotion of architecture, emphasize its qualities and diversity, and create a relevant debate".
Film and architecture are a good match. The themes can be bend in multiple directions and perspectives. And this might be a way to get an audience for a film program that could be seen as somehow audacious – which should be applauded!
This is where I have put my red marks in the program:
A world premiere of Jonas Mekas' latest film, Scenes from the Life of Raimund Abraham (2015), a portrait of an architect. The festival also shows As I was moving ahead occasionally I saw brief glimpses of beauty (2000), one of the most beautiful films I have ever seen.
Dyrehaven, Den Romantiske Skov (1970), Jørgen Leth and Per Kirkeby's examination and depiction of Denmark's oldest nature park.
Jean Rouch' classic Petit à petit (1971) and Raymond Depardon's Afrique: Comment ça va la douleur ? (1996). Both films are a part of the two themes related to Africa screened at the museum of modern art Louisiana.
Le Cabanon by Le Corbusier (2010) by Rax Rinnekangas, the story of a small cabin Le Corbusier built for his wife in 1951 that became an important part of his life.
And I might have to see French photographer Françoise Huguier's beautiful film Kommunalka (2008) again, about life in a traditional communal apartment in Saint Petersburg, Russia.
As goes for the feature films: Tarkovsky's Nostalghia (1983) screened in a church, Terrence Malick's Days of Heaven (1978) and Rohmer's Les nuits de la pleine lune (1984).
If I were in Aarhus, I would go see The New Rijksmuseum (2014) by Oeke Hoogendijk about the restoration of the Dutch museum followed by a debate on the subject. This takes place at the cultural history museum Moesgård that has recently been rebuild by Henning Larsen Architects.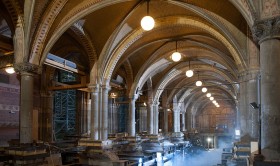 The New Rijksmuseum
There is much more and as I get started, I might venture into some of the more experimental architecture films, this year the focus is on Johann Lurf…
CAF is also cooperating with the Danish culture tv channel DR K that will be tuning in on architecture from March 17-22 (Tuesday you can watch Jytte Rex's portrait of Henning Larsen and Tarkovsky's The Sacrifice).
The Danish minister of culture, Marianne Jelved, will be opening the festival on Wednesday night with a gala screening of Barbicania (2014) by Ila Bêka and Louise Lemoine, a video diary of life in the notorious Barbican Centre in London (PHOTO).
So don't miss it if you are in Copenhagen or Aarhus, or pay a visit if you're abroad. Enjoy this goody bag of high quality screenings!
Copenhagen Architecture Festival x 2015 March 19-22
Check it out: