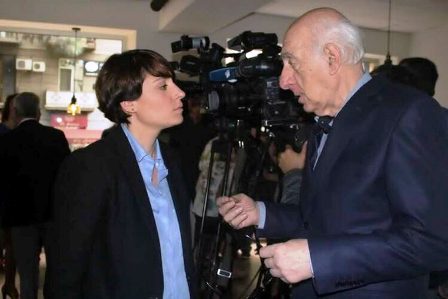 I've seen it many times before and I love the look of it! A huge room full of documentary people, directors and producers with ideas, more or less developed film projects, clips – called trailers or teasers – meeting with broadcasters, sales agents and distributors to pitch. 20 minutes so you have to be prepared to say what kind of help you need and you have to know in beforehand to whom you are talking… Lots of meetings…
I've seen it at IDFA in Amsterdam and at DOCSBarcelona and I´ve always admired the organisers, who – also here – make it work, creating the flow needed so the commissioning editors know where to go, helped by smiling staff members with lists and of course also one, who from the stage ring a bell to say "time is up, ladies and gentlemen, move to next meeting".
The Forum pitching itself takes place at the Royal Theatre's traditional "Stærekassen" (!) in the mornings and the meetings at Odd Fellow Palæet (!) five minutes from there, words from the internet:
"The Odd Fellows Mansion is a Rococo town mansion in Copenhagen, Denmark, named after the local branch of the Independent Order of Odd Fellows which acquired the building in 1900…"
So that's where I went after having been to the Cinemateket to watch Margreth Olin's impressive "Songs of Earth". Full house, applause after the film. Big audience potential.
Coming to the Odd Fellow Palæ I was not allowed to go into the Forum meeting hall as I have (only?) a press badge, but I met an old friend Massimo Arvat in the lobby, Italian producer from Turin, who is still going strong with a lot of work for television, corporate films and of course creative documentaries. He declared his love for CPH:DOX, second time he was here, no project this year but networking of course. We had a good chat.
Fortunately the artistic director of the festival Niklas Engstrøm passed by and I told him that I would like to experience the atmosphere and see how it goes for, especially, the Georgians who I know so well from working with the Film Mentoring Program of CinéDoc Tbilisi and from many visits to the country. He opened the door for me and I joined the table of producer Irina Gelashvili and director Keti Machavariani, who monday pitched the project Here, Between This Sea And Those Mountains, "A family saga of a father and daughter – Gogi and Helena, two politicians from different generations – is intertwined with Georgia's century-long struggle for freedom." It will be a good film, I am sure, that will also, of course, include the turbulent political situation of the country with massive demonstrations against the government. But I also went to say hello to Julien Pebrel and Tamar Kalandadze at their table, pitching with Sakdoc's Keti Kipiani a project called Kartli: "A former soviet sanatorium on the edge of the Tbilisi Sea has harbored refugees from Abkhazia for over 30 years. Now in a precarious state, the building can no longer shelter them, uprooting and pulling apart this big family of refugees yet again." And one more – dear to me – project from Georgia, Boxes from Georgia, presented by director Gvantsa Meparishvili and producer Tiko Nadirashvili: "Volunteers from Georgia, Ukraine, and Russia join a charity for Ukraine in Tbilisi. In this microcosm of regional issues, hard work and solidarity spark unlikely friendships – but power struggles ruin this dynamic, turning best friends into enemies."
Leaving the place having met so many good friends from my past at EDN, including many from arte – Germany and France, good to see them here in Copenhagen.
It's another sign of success for the Industry section of CPH:DOX – the amount of decision makers, who attend and take meetings with filmmakers from all over, including the Caucasus countries and of course Ukraine.