D. Taylor Black: David Farrell's Elusive Moments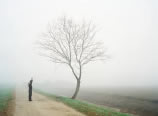 This documentary is an inspiration for people, who deal with, work with or like to watch a photographer at work and listen to his thoughts about what he is doing and why and how. The documentary has for me too many words, and I could have done without some few scenes where people say how good David Farrell is, but those are details that a critic has to say in order to get to the point – that Farrell invites us generously to share the many projects he has worked on and is working on, as well as his dilemma (as any creative documentarian) to get into a market that is main-stream, tough and money-orientated. Logically the last sequences of the film shows him as a teacher, who teaches (which he must be good at, my remark from seeing this film) to have a steady income and then go and make his photos as he wants to.
The quality of Taylor Black's work lies comes from the simple fact that he has followed Farrell for years and that he takes his time when he is with him in the Irish landscapes and in Italy, in Lugo, a place that I want to visit having seen the photos of Farrell. He says himself that the cities he saw was like Fellini, I would say Olmi, the fog, the emptiness, the has-been atmosphere.
The technical side is also touched upon. He shoots on film material, he loves the development process, he shot 900 pictures during 12 days in Italy, he has to edit them, this is where the work starts he says. Does it ring a bell, you documentary observers out there?
Ireland, 64 mins. 2008