Dainis Klava: Aigi (Time)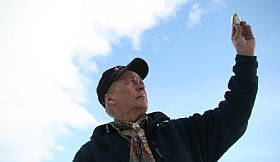 Trying to understand what is going on in the world takes a lot of time. These banal but wise words come from the old reindeer herder, who is the character of this visually strong reflection on time in an isolated area in the North where the Samis live. You never see him talk to the camera, the narrative construction is built like one long monologue of the reindeer herder accompanied by stunning scenes of the landscapes and from the life of the reindeers. Winter, spring, summer, autumn. Snow melting for the spring when the calves are born. Snowmobiles. Reparing the houses in summer time. Fishing. Training with the family in lasso'ing. Visit from researchers in culture and climate. And the continous return of the missile question, those being fired from the land areas of the reindeer and their herders. If they are dangerous or not, the Sami protagonist does not conclude, it seems like he has decided that this is how it is, we can live with that, and we may even re-use some of the remaining rests from the missiles when they land on our fields. There will always be reinder raising.
Good for your soul to watch a film like this. Reflective, beautiful to build a story like this far away from urban structures. Refraining from any romanticising of Sami life or making it an exotic tourist tour.
Latvia/Estonia, 2008, 52/26 mins. (I saw the 52 mins. Version)