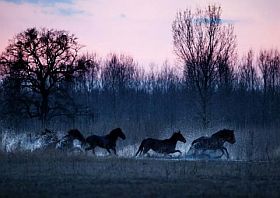 To be honest, I did not have high expectations. I knew that Dan Curean had worked 4 years on his film about wild horses in the Romanian Danube delta, but I had no idea that he had done so to get it all and he had transferred the material into a multilayered documentary epic on man and nature, rich on poetic observations, and on conflicts and with a great camera work.
On top of that, Curean tells his story in first person with a brilliant text performed by a brilliant voice. You trust the "I" from the very beginning when he takes you to the horses and to the boy, Ivan, who we follow on horseback, with the horses, with his horse Viktor, who gives him lice (!), sailing in the water of the marshes, right to the end of the film, where he, years older, seems to help those who have come to catch the horses to bring them to the slaughterhouse. Avoiding the eyes of the "I", Ivan is, the camera, Dan Curean. Many horses go, but a public protest campaign stops what is called a massacre.
Wild horses, stray horses – the background is that "the abandoned horses of the communist time farms were slowly being turned into wild horses like in the old times", and now they spoil the forest, it is being said.
Dan Curean puts the story into a human context. Apart from the boy Ivan and his relation to nature (reminding this viewer about "Louisiana Story" by Robert Flaherty and Richard Leacock), he introduces Murgur, an older bearded, wise man, who knows all about horses and their behaviour, and is a teacher for Ivan. As well as old Dochia, a woman who is said to be mad, "a good witch" she says about herself, happy that Mugur is there as he reminds her about her (dead or disappeared?) husband. She brings fine songs to the screen. Not to talk about Taras, who is in his nineties, he kept one horse until his death.
There is a beautiful balanced blend of fairy tale and documentation, even a cowboy film feel there is, in a film, that catches all seasons, and luckily has many wordless sequences. Including images of horses, who freezed to death during the harsh winter of 2010 as well as a visual demonstration of social life in almost deserted villages, where alcoholism reigns.
The film won an award at the festival in Sibiu in the category ecological films. No offense to this genre but "Gone Wild" will, I hope, be placed in many festivals as what it is: an excellent, creative documentary!
http://www.astrafilm.ro/astra-film-festival-2012-awards-1.aspx?theme=1
http://tifftv.ro/interviu-dan-curea-gone-wild
Romania, 2012, 87 mins.