Dana Budisavljević: Family Meals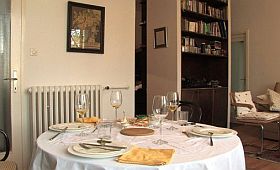 Full cinema, festive atmosphere, premiere of the long awaited film by Dana Budisavljević, Croatian director and producer, and one of the founders of ZagrebDox at the time where she was working with Nenad Puhovski at Factum that stands behind the festival.
Yes, there was a family feeling to frame a film that totally lived up to the expectations that we were many who had. It was fun, it had wonderful characters, Dana's mother, father and brother, and it had a structure where the film was growing in strength and perspective. From, in the beginning. conveying a sometimes a bit embarrassing conversation piece, where Dana is asking her parents why they reacted like they did many years ago, when she told them that she was gay. To a much broader picture of a family that was split up, with members who all had their secrets that they kept for themselves. Which were slowly being revealed, at least some of them as the film goes along. The character of the brother, shy, introvert and a bit enigmatic in the beginning, becomes more and more significant as you as spectator discovers the gap that has been, and probably still is, between him and the sister Dana. And for someone who is 60+ it is also a film about generations. He does not say so directly but I have no difficulties in understanding the father, who seems to not understand why everything has to be discussed, as the daughter communicates. All on the table, but why?
It is not a Bergmanian film, it comes from a different cultural background, it has humour and it stays at the dinner and lunch tables, and in the kitchen, offering its audience loads of identification points, making you leave the cinema with a smile and pretty hungry after all that food for thought!
Croatia, 2012, 50 mins.