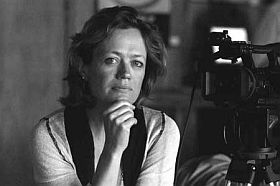 DFP stands for Sundance Institute Documentary Film Program and Fund and has existed for 10 years which is the reason that realscreen, the fine trade magazine that calls itself "the best in non-fiction", brings an interview with the director Cara Mertes (photo) in its daily newsletter.
There are far too few international funds for documentary support, there should be more as the importance of the public broadcasters in connection with creative documentaries is strongly decreasing, so it is important to know about the activitites and ambition of the Sundance DFP. Here is what Cara Mertes says:
"[We've] also developed a third area that I call international creative partnerships, and they're really about increasing resources for documentary filmmakers around the world." Those partnerships include the Skoll Foundation on Stories of Change, which brings social entrepreneurs and storytellers together at the Sundance Film Festival and the Skoll World Forum; the Channel 4/Britdoc Foundation partnership, which created the Good Pitch in North America, where NGOs, philanthropic, corporate and individual investors are brought together to support films; the Arab Fund for Arts and Culture to support Arab documentaries; and CNEX, a Beijing-based not-for-profit, to run labs and design funding protocols."
… "DFP has supported films and filmmakers from around the world, through the Sundance Documentary Funds, which grant between US$1 million and $2 million per year in development, production and post-production categories; creative documentary labs; Sundance Creative Producers Summit, and more". Titles include Lixin Fan's Last Train Home, Mahmoud al Massad's Recycle, Ra'anan Alexandrowicz's The Law in These Parts and U.S. films The Island President, directed by Jon Shenk, and Detropia from Heidi Ewing and Rachel Grady, along with Laura Poitras's My Country, My Country and The Oath.
Read more: http://realscreen.com/2012/12/07/institutional-thinking-sundance-documentary-film-program-wraps-10th-year/#ixzz2EPxDkBxp