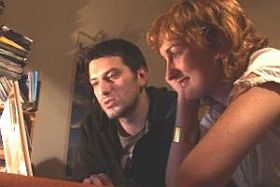 … is taking place right now in Budapest, last day today for a programme of "European Documentary and Anthropological Film Festival". Festival director is Zoltan Füredi, a film director himself, I met him years ago where he was working on a film from Mongolia. He still is, hoping to finish it this year – if he does not initiate new projects for the development and promotion of the documentary in Hungary.
Last time I was in Budapest, Zoltan told me that he would set up a documentary cinema. It is there now, small and cosy art cinema (name DokuArt) with café attached and screening equipment from 35mm to dvd, including an old 16mm machine stading in the corridor as a museum object, but no it still works I was told.
The festival screened, among many others, Cooking History by Peter Kerekes, Moon Inside You by Diana Fabianova, René by Helena Trestikova, Welcome to North Korea by Linda Jablonska and Sevdah (Photo) by Marina Andree – all films that have been reviewed or noticed on this site.