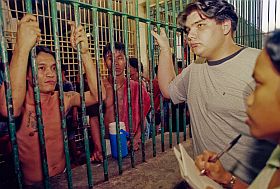 Mikael Opstrup writes: Dear Louise, Thanks a lot for your thoughts on the future for documentary. I think you are pointing out the right issues, I will try to address a few of them.
For me this debate started with the question about independent feature film docs and the decreasing TV financing that the filmmakers meet when pitching at the many sessions around Europe and abroad.
It's been easy to see that over the last 5 years it has become much more difficult and this of course causes frustration. Frustration can be very negative but it can also be the starting point of new ideas and necessary changes. I think this is key issue. Think back, the technical changes have always changed art and the production conditions. And that's where we are, digitalization and the web is changing almost everything: TV, production, distribution etc.
What is hasn't changed is storytelling, the need for strong stories is eternal. So – still focusing on documentary and TV – I think we need to see it like this:
Storytelling, no problem. The technical development offers a variety of newshooting and distribution formats, in fact it's much richer than the existing slot-length tyranny. TV programming, where the film is available online, needs no length limitations. The web, mobiles, VOD etc. opens to all kinds of formats. Where it will take us is extremely difficult to predict and I think we will have to live with the financing-limbo for some years but at a longer perspective I think the development offers more opportunities than restrictions.
Feature length 'creative documentary', the format we know today, will have a smaller place in the television of tomorrow. So in terms of financing I think we need to think differently. Of course the national or regional funding will have to
be strengthened. Whether it's realistic (I'm not thinking of the current financial crisis but beyond this) I'm not sure but it's for sure necessary. But also other 'non-media' funding is important and I could imagine that the sales agent will play a bigger role here – the professionals who know the increasingly fragmented market. We see more and more players who are mediators in finding funding that relates to the subject or the format and I think that today's sales agents need to go down this road as well.
And again I would like to raise the question of future cinema, which will be totally digital. The cinema is THE place for many creative documentaries but audience wise it's always been for fiction. Of course the cost reduction from 35mm to bits is one thing but it will probably also open the cinema to sports events, concerts etc, and this could break down the fiction-tradition of this temple and pave the way for documentary.
Enough for now, it's getting dark in Riga, Latvia where the Baltic Sea Forum in its 15th year one again holds a variety of wonderful projects that will be pitched in 2 days – and for quite a few of they face some financial difficulties! Yesterday I saw the strong film "Give up Tomorrow" (photo) by Michael Collins and Marty Syjuco – stresses the importance of the documentary genre go and see it!
Let's keep up discussion …
Mikael Opstrup was a producer of international documentaries since the 90's. He worked as production Adviser at The Danish Film Institute 1998-2002 and was from 2002 – 2008 co-owner of Final Cut Productions in Copenhagen. He is currently Head of Studies at EDN (European Documentary Network).