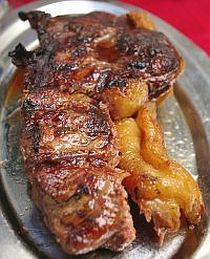 There were 24 film projects to be pitched to the panel of tv representatives, see below. And on top of that the organisers had reserved two mornings, where another 40 projects and their producers/directors could have one-to-one meetings with tv commissioners and buyers as well as sales agents. They made it work, quite a mathematic puzzle, Rodrigo Vila and his staff. Quite impressive – and they want to make DOC Meeting the biggest and most important market meeting place for documentarians in Latin America. I can't see why they should not succeed with their competence and energy.
Back to the projects (sorry can only mention a handful of them, check the website) which were indeed quite as diverse as the many kind of subjects for documentaries which exist. It was joyful to hear about and watch a clip with "Violeiros du Grotoes" by Brasilian couple Mario de Aratanha and Jeanne Duarte about the 10-string guitar and its arrival to Brasil with the Portuguese, a film that first of all will be about the legends and stories linked to the instrument. Also about music, but from a social angle is the Argentinian "The Other Colon Theatre Art and Social Transformation" by Adolfo Cabanchik, who has shot 90% of his film that gives you emotional strong portraits of children from poor areas, who got an identity and a better life because of music. The best pitch award, however, a nice bottle of champagne, was deservedly given to Eliza Capai from Brasil. For six months she had been travelling Africa, on her own, bringing back stunning moving images to make into two versions (54 and 70 mins.) for the film "African Women".
Original in approach is the film proposal of Agustina Macri, "Carnacalypse", in which she wants to investigate, in a fake-documentary style, what could happen if there was no more meat in Argentina! The director goes for a feature length documentary to be produced by Fly Films in Buenos Aires. One of the most praised proposals was the ballet film by Juan Alvarez, presented by himself and the producer Virginia Bogliolo, both from Montevideo in Uruguay. The film is about Julio Bocca, world famous dancer, who has retired and dedicates his working life to the renaissance of "an old forgotten National Ballet theatre". The clip that was shown demonstrated an unusual director talent. Finally time to mention the presence of Finnish Kimmo Koskela about the artist Kimmo Pohjonen and his "Ice Bellows". Contrary to what many thought, including this blogger, the cinematic quality and the origiality of the artist convinced several panelists that they had to get involved even if the project is as far away from main stream television as it can be.
http://elizacapai.com/about/mais-dela/
http://www.koskela.tv/home_koskela_art_media_ house_production_production_service.html