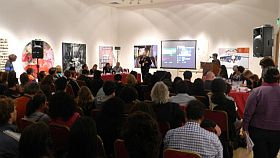 It was the fifth edition of DOC Meeting Argentina that took place this last week. A workshop for pitch preparation of 24 projects was arranged September 19-21, the pitching forum took place the two following days, September 22 & 23, parallel to "conferencias" where broadcasters presented their profile or talked according to specific themes. Today, September 24, meetings are held between filmmakers and potential financiers, who have had busy days, as they have also had meetings with producers and directors, who were not in the public pitching. There is a hunger to get financing, and it seems that at the same time as European broadcasters lose financing for creative documentaries, the Latin American conveyed much more optimism with public funding attached as well, in Argentina through the INCAA.
Around 150 people were registered participants for the event that was hosted by the Art Institute of the university UADE on the Avenida 9th of July in Buenos Aires. I was tutoring the workshop and moderating the pitching sessions together with Mikael Opstrup from EDN.
The projects came from Argentina, Colombia, Italy, Spain, Uruguay, Germany, Mexico, Venezuela, Brasil, Canada, Australia and Kenya (!). They were at different stages – early development, in production or in postproduction. The panelists came from ZDF/arte, arte France, ORF Austria, YLE Finland, LIC China, History Channel, Canal Encuentro Argentina, TV3 Catalunya, Chellomulticanal, GNT O´Globo and Futura Brasil, Hispan TV (an Iranian Spanish language channel to start in November), History Channel Latin America and RTVC Colombia.
The atmosphere… well as there is quite a different ambiance at the Camp Nou football stadium in Barcelona and the home ground of Boca Juniors in Buenos Aires, there was passion, solidarity and strong applauses in the room far away from a pitch session in a North European country.